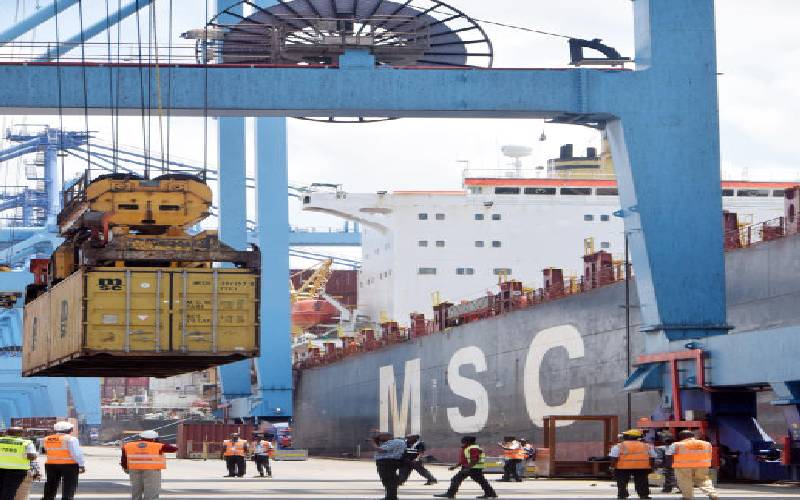 Reports that Kenya has suspended a recent order that all transit cargo be transported using the Standard Gauge Railway to the Naivasha Inland Container Depot has offered temporary relief to investors in the logistics sector. On Tuesday last week, Transport Cabinet Secretary James Macharia held a virtual meeting with Northern Corridor stakeholders where the directive was communicated after a heated discussion. The meeting came hot on the heels of a letter from the Uganda government opposing the move to transfer the transit cargo to the new facility. At the port of Mombasa, we confirmed that only long-stay transit containers were being railed to the Naivasha ICD. It was, however, not immediately possible to establish the number of such containers.
SEE ALSO: Lawyer contests KPA's tender
"Yes, transit railings is now optional," confirmed Kenya Ports Authority (KPA) head of corporate services Bernard Osero. Local and foreign clearing and forwarding firms, container freight stations and transport firms have warned that they risk collapsing if the State presses ahead with its decision to evacuate all cargo to the hinterland. Alternatively, they will be forced to relocate to Nairobi, Naivasha or further up along the busy corridor. This, however, has done little to allay their fear that the economies of the coastal region and towns along the Mombasa-Nairobi highway will be destroyed. Macharia had earlier stated that one of the reasons for using the railway was to protect truck drivers from contracting the coronavirus disease. On average, 1,500 trucks laden with cargo leave Mombasa every day and there have been fears that the drivers and their turn-boys could be unknowingly spreading the highly contagious disease during their stops on the highway.
SEE ALSO: British Pixon to oversee Kenya versus South Africa encounter
Transporters based at the Coast had previously taken to the streets to protest an order that all cargo be hauled to Nairobi using the SGR. But it is the entry of Uganda into the fray that appears to have driven this latest change of heart. Transporters in the neighbouring country, which is the largest importer through the port of Mombasa, insist that cargo owners should be left to decide how their merchandise will be transported. Unconfirmed reports indicate that part of Uganda's resistance emanates from the fact that the order to transport all transit cargo to Naivasha would cripple business ties and other operations at the port. In recent years, Uganda, South Sudan and Rwanda have established cargo clearing stations and hired revenue officials in Mombasa and Nairobi.
TRANSPORT COMPANIES
Ugandan importers have also established transport companies to haul their cargo from Mombasa. These companies would be in danger of shutting down if the Naivasha order is effected.