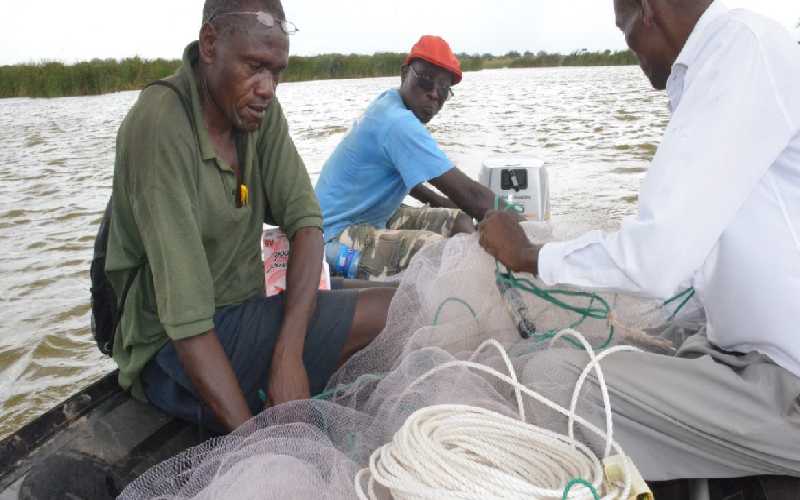 Lake Challa in Taita Taveta has a massive 600 tonnes of fish which when harvested could change the fortunes of the county, a new study has revealed. The lake shared between Kenya and Tanzania is one of only two lakes in the Coast that has been identified as having the vast fish stocks, ready to be harvested. In a preliminary report released by Agriculture, Livestock and Fisheries executive David Mwangoma, the county government has been told to work closely with other partners to develop a business module to harvest the fish from the lake and export them.
SEE ALSO: Governor Samboja in war of words with chief
Quite deep
The study was conducted by the Kenya Marine and Fisheries Research Institute (Kemfri) from March 12-24 this year to identify the current and exploitable fish stock and biodiversity of fish species among others. "Lake Challa is quite deep, about 100 metres, therefore specific fishing gears should be used. The fish are clean with no pathogens, thus fish from this lake can be used as one of the items for export from the county," stated the report. However before this is done, the county government should make sure the lake is accessible by constructing the road leading to the water body, the report further states. The researchers from Kemfri centres in Mombasa and Kisumu noted while fish stocks at Lake Jipe were declining at an alarming rate, stocks at Lake Challa were quite huge because the resources had not fully been exploited.
SEE ALSO: Conspiracy theories explaining causes of Tsavo Park fires
"There is need to reduce the stocks by half to enable the fish regenerate faster," said Dr Chrispine Nyamweya, a Kisumu-based researcher. "The tilapia fish species at Lake Jipe that is shared between Kenya and Tanzania is facing extinction. There should be concerted efforts among relevant stakeholders to save the species from destruction," added Dr James Mwandawiro of Mombasa Kemfri centre.