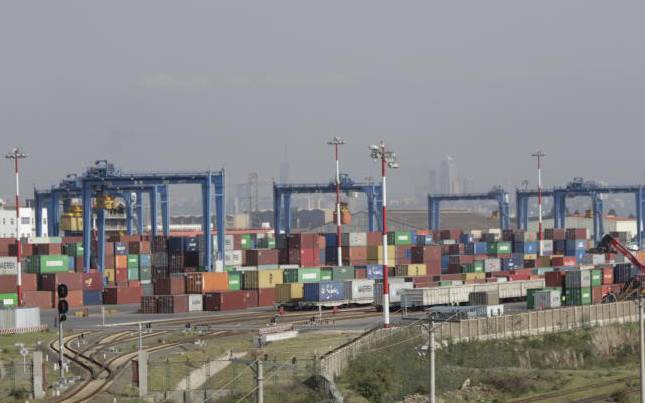 Business News
Land adjacent to ICD Nairobi earmarked for truckers to wait for goods to be cleared on appointment.
Kenya Ports Authority (KPA) is finalising plans for the lease of two parcels of land near the Nairobi Inland Container Depot (ICD) to be used as truck marshaling yards ahead of a planned rollout of an appointment booking system for container collection. ICD Principal Operations Officer Nicholas Tendwa said the lease would ease congestion and eliminate idle trucks waiting to collect cargo at the ICD. The land is set to accommodate 200 trucks at a time. "There are two parcels of land that have been earmarked but we are looking at the option of leasing," he said. "This land is meant for truck marshaling areas so that as we introduce the truck booking system we give our customers or the trucking companies a place to wait before they come into the depot," Mr Tendwa said.
SEE ALSO: KRA to clear transit cargo in Naivasha
The ICD can hold 15,000 twenty-foot equivalent units (TEUs) with the container traffic expected to shoot to 429,848 TEUs by the close of this year. KPA is also targeting to haul at least 40 per cent of cargo from Mombasa port on the Standard Gauge Railway. "Trucks will only come to the port with an appointment and will be given a parking area for temporal waiting," said Tendwa. KPA has also leased two other properties, called peripheral storage facilities, where cargo that is over 21 days is moved. The facilities have a capacity of 6,000 TEUs. The official said that the congestion was easing, with dwell time for trucks reducing from over 13 days in 2018 to six this year.
SEE ALSO: Parents challenged to help children learn while at home
"Last year, our cargo volumes in the yard were about 12,000 TEUs and you saw our capacity is 15,000. That meant we were full to the brim," he said. The ports agency has increased the costs for uncollected containers and introduced a graduating tariff after goods stayed longer than the free period of four days. The highest cost is $45 (Sh4,664) for a 20-foot container and $90 (Sh9,329) for a 40-foot container per day "Our customers noticed that because we were cheap they'd rather leave their boxes here than taking them to warehouses where pay more. We had to make them realise that this is not a storage facility," he said. KPA is also planning to roll out an SMS container tracking system through which importers can be notified on the movement of their container after it leaves Mombasa port.
SEE ALSO: Swelling lake waters put brake on economic activities plan