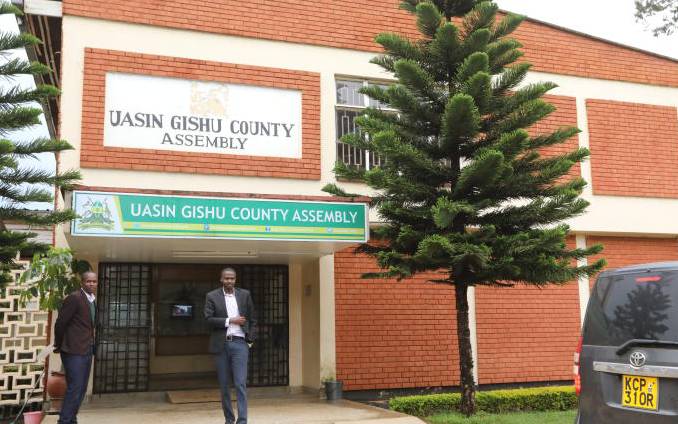 The county assembly has suspended the controversial land valuation bill that would have increased lands rates by more than 600 per cent.
This follows an outcry from the public that termed the proposed rates punitive.
The assembly last week passed a motion putting off the ongoing land valuation by the executive until controversial issues are ironed out.
Sponsored motion
Sergoit Ward Member of the County Assembly (MCA) David Keitany, who sponsored the motion to postpone the ongoing land valuation, told the assembly there was no public participation conducted on the proposed piece of legislation.
"This process should be suspended until public participation has been conducted and approved by Uasin Gishu County Assembly. The executive is, therefore, notified to stop forthwith the ongoing land valuation," said Mr Keitany.
His Langas counterpart Francis Muya, while seconding the motion, said the ongoing land valuation roll is not taking into consideration subdivisions of the land by original owners.
"The valuation roll conducted by the executive does not capture the real picture of Eldoret Municipality because most plots have been omitted," said Muya.
He reiterated that public participation must first be done before any exercise is conducted as required by law.
Nominated MCA Leah Mallot said the new valuation roll will raise the rates to a level that is not affordable to the public.
Sarah Malel, Kimumu MCA, who presided over the session as the temporary Speaker, directed the executive to implement the order.
"This county assembly orders the County Government of Uasin Gishu through the department of Finance and Economic Planning, to organise public participation for residents to understand the valuation bill before starting the process," said Malel.
In the proposed new valuation roll, which has since been released by the county to the public, a half-acre plot in Kimumu that has previously been attracting Sh3,000 land rates per year, has been increased to Sh24,000.
In Pioneer where landowners usually pay Sh3,400 annually for a quarter of an acre, they will now part with Sh90,000.
The same average increment of about 600 per cent will be applicable in all parts of the town.
"These charges are so high and the ripple effect will be damaging to everyone and the entire economy in the region. We have to discuss with the county the way forward," said traders' spokesperson Kipkorir Menjo.
Mr Menjo said farmers and traders were already suffering and increased rates would worsen the situation.
"It's like you get a drowning person in a swimming pool and instead of saving the victim, you add more water," he said.
Traders, landowners, and farmers have already filed a case in court seeking to quash the proposed new rates.
The case will be heard tomorrow and also there are a series of meetings on Wednesday to sensitize the locals on the same.
The traders petitioned the court to put an injunction until proper modalities and locals understand the merit of the valuation process.