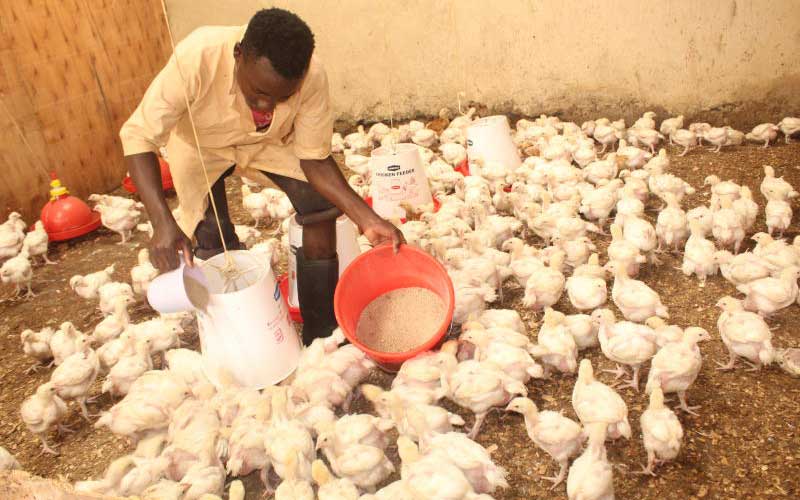 The Ugandan government has slapped Kenyan poultry processors with import quotas. This comes a week after the Kenyan government lifted a two-year ban on poultry products from Uganda following an Avian flu outbreak in 2017. In a letter by Uganda Commissioner of Animal Health at the Ministry of Agriculture Dr Ann Rose Ademun, Kenyan poultry processors are only allowed to export into Uganda 2,000kg of smoked chicken sausages for four months. "We will only allow (processed chicken) import from Kenya for a period of four months and only 2,000kg of chicken sausages," part of the letter reads. Ademun said the move is to protect Uganda's poultry industry.
SEE ALSO: A-Z of making good cash from rearing kienjeji birds
"In order to promote and support the Uganda government goal on the development of meat industry, the Department of Animal Health wishes to advise you to source for meat (chicken) products on the local market. We shall allow import for a short time not exceeding four months from now," Dr Ademun said in a letter to one of the poultry industry players. "Your organisation is, therefore, encouraged to buy local machinery equipment for chicken products processing and production of quality products to support government national effort as well as access to export trade." Kenya imports about 35,000kg of Uganda poultry weekly. However, given the porous nature of the borders, the number could be higher. The import restriction has generated an unhealthy competition and supremacy war between the two East African Community (EAC) countries. The trade spat may hurt both Kenyan and Ugandan farmers. In 2017, Kenya banned the importation of chicken products from Uganda due to an outbreak of the Avian influenza virus. Uganda retaliated by banning the importation of Kenyan poultry products.
SEE ALSO: Congo declares end of Ebola outbreak in east, second deadliest in history
Upon the resolution of the outbreak, the two countries agreed to allow the resumption in trade. Uganda, however, continues to impose the ban on Kenyan products, insisting they are protecting their local industry.
Spirit of EAC
Paul Makau, a large-scale poultry farmer and the chairman of the United Broiler Farmers Association, said Uganda's move negates the spirit of the EAC Common Market Protocol, which allows for free movement of goods, labour, services, and capital. "The new development means that the Uganda poultry products have free access to the Kenyan market while the Kenyan products are regulated from accessing the Ugandan market," he said. Kenya's poultry industry contributes about two per cent of the country's gross domestic product. The impact is bigger given that most households in rural areas rear chicken for commercial purposes and their activities are not recorded.
SEE ALSO: Uganda to distribute free radios to aid learning amid Covid-19
The industry's growth is powered by health-conscious consumers who prefer poultry meat to red meat. On average, Kenyans ate 2.6kgs of poultry meat in 2018 a slight increase from 2.3kg in 2017.