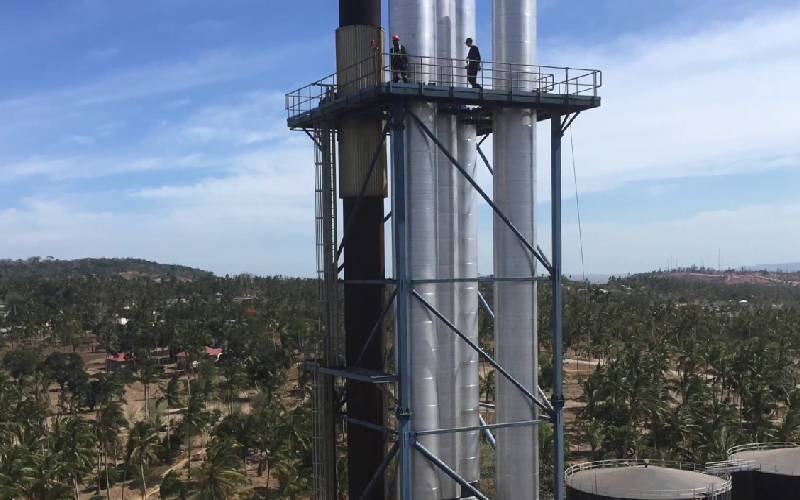 Global Liquefied Petroleum Gas (LPG) experts have begun the construction of an onshore storage and filing facility in Mombasa County. The works will be done in three phases, with the first one set to be completed in November. Energy firm, Petredec and its local partner, Rift Gas, have been okayed to construct Sh7.5 billion facility in Mombasa. According to Rift Gas Chairman Lt Gen (Rtd) Njuki Mwaniki, the Sh7.5 billion includes the cost of the storage and filing facility at Mombasa's Liwatoni area and other infrastructures upstream.
SEE ALSO: Over 1,000 litres of expired cooking oil seized in Mombasa, suspected arrested
The first phase will cost Sh850 million, which will rise to Sh2 billion in the second phase and Sh6 billion in the final phase. "If you add the all the down-stream infrastructure in Kisumu, Rift Valley, Nairobi and Western the total foreign direct investment will hit Sh7.5 billion direct foreign investment," said Mwaniki. The facility will move 12,500 tonnes monthly. It is expected to shake the LPG import business dominated by African Gas and Oil Ltd. The two firms' joint venture - Mansa East Africa Ltd will build a storage plant of 1,000 tonnes capacity with additional 10,000 tones floating storage. "The mounded LPG terminal will be supplied by a floating storage vessel moored at Comarco's private port," said Mwaniki "We will have a small floating ship that would have hold between 5,000 to 10,000 tonnes that will feed the onshore facility," said Petredec East Africa Manager Max Beckett. Phase one will end in November.