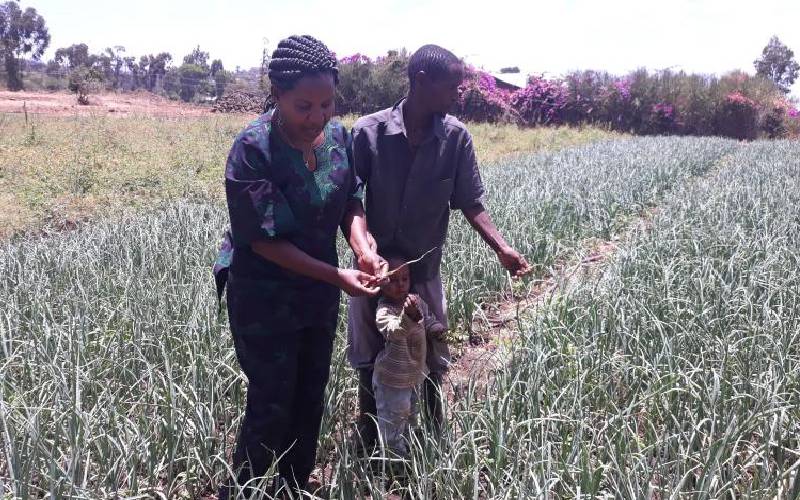 Business News
Murithi said that previously it was hard to check his crops for diseases.
Farmers have embraced aerial technology as a support tool to enhance crop production. Over 1,500 farmers across Meru will be aided to identify plant diseases and other conditions afflicting their farms using the flying sensors, which are a combination of a drone and a camera. The project is being implemented by the Water, Research and Resource Centre (Warrec) of Jomo Kenyatta University of Agriculture and Technology and Third Eye, in a project funded by SNV-Kenya, a Dutch development organisation. Warrec Director Bancy Mati said the project uses flying sensors to detect crop diseases and other stresses in farms, thus allowing agricultural officers and farmers to make timely interventions.
SEE ALSO: Farmers oppose move to import maize
The infrared-enabled camera takes and produces images of different colours that indicate various types of crop diseases or plant stress. "It serves as an early warning system. The flying sensor is able to identify what is ailing crops and the results are interpreted for farmers. Farmers are only paying Sh150 for the service and as a university that works to support agriculture, we are happy with the results.
Human eye
"The use of flying sensors has enabled small- and medium-sized farmers identify diseases early. The system is able to identify diseases at least 10 days earlier than the naked human eye. It serves as an early detection system. We are working on a pilot project in Meru and aim to spread it to more farmers," said Prof Mati during a tour of the farms. Residents of Marurui in Buuri sub-county have benefited from information from the flying sensors after paying to have the drones flown over their farms. Francis Murithi said the flying sensor had enabled him increase production significantly in his quarter-acre parcel of land.