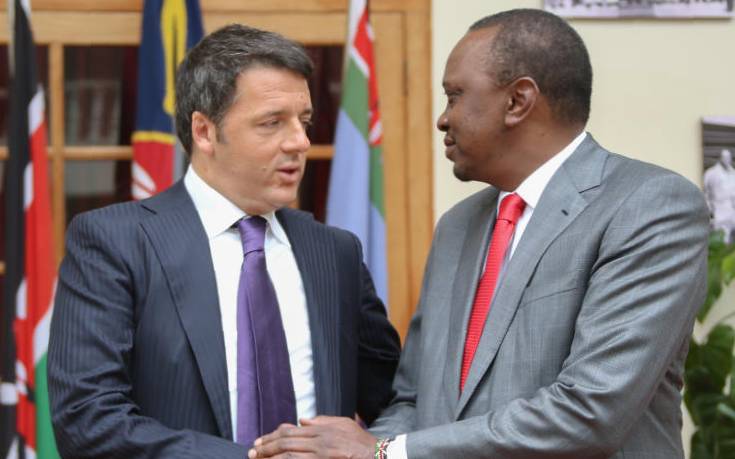 One night in mid July 2015, then Italian Prime Minister Matteo Renzi arrived in Nairobi for a two-day visit.
Renzi, who served as PM between 2014 and 2016, was chauffeured straight to State House, Nairobi, where he met President Uhuru Kenyatta.
What most Kenyans remember from that meeting is a picture of Renzi, appearing to be wearing a bullet-proof vest underneath his suit.
But what you may not know is that it was during that meeting that the two leaders witnessed the signing of a Sh34 billion deal with Italy's BNP Paribas and Intesa San Paolo banks for construction of Itare Dam in Kuresoi.
Read More
The agreement, a Presidential Strategic Communication Unit (PSCU) dispatch said, brought Italy's total financial assistance to Kenya to Sh59.3 billion.
Uhuru and Renzi agreed to strengthen cooperation between the two countries to boost security.
"The funds will cover the whole water project which consists of construction of the dam, a tunnel, raw water treatment of 100,000 cubic metres per day and laying of pipes. The dam will serve over 800,000 people in Kuresoi, Molo, Njoro, Rongai and Nakuru," said PSCU.
Renzi was accompanied by Italy's Deputy Foreign Affairs Minister Mario Giro, International Economic Affairs Adviser Prof Marco Simoni, ENI chief executive officer Claudio Descalzi and ENEL Green Power chief executive Francesco Venturi.
The next day, Renzi gave a public lecture at the University of Nairobi before leaving.
Uhuru reciprocated the visit by travelling to Rome in September where he held talks with Renzi at the Villa Doria Pamphilj.
The project, which looked promising at the start, is now in tatters with reports the contractor, Co-operativa Muratoi Cementisti Di Ravenna (CMC Di Ravenna), has run into cash-flow challenges.
The contract was awarded by Rift Valley Water Services Board (RVWSB), the executing agency for Sh38 billion project. RVWSB has been dogged by claims of kickbacks and is under probe.
The Government has already paid out over Sh11 billion.
DCI boss George Kinoti said preliminary investigations show the project is between two and five per cent complete.
Between 2016 and 2017, the project dominated news after opposition leader Raila Odinga opposed it on claims it posed threat to the environment.
Uhuru dismissed Raila's claims, saying donors would not have funded it if it would have a negative impact. "Kenyans must differentiate between development-conscious leaders and those out to divide them along ethnic lines," said Uhuru.