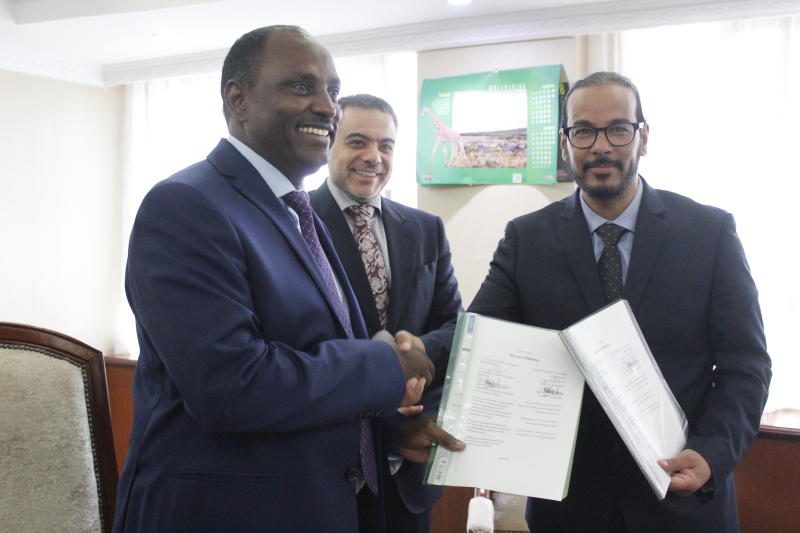 Kenya and Saudi Arabia have signed an agreement to improve working conditions for the latter's citizens in the Middle East state. The pact will see Kenyan domestic workers earn higher perks and other benefits. Labour and Social Protection Cabinet Secretary Ukur Yatani said Kenyans working in the Gulf state would enjoy better working conditions, insurance, and accommodation. "The minimum wage will now be set at Sh40,000 for any work plus allowances for overtime. They will also get life insurance, housing, and food," said the CS. "Initially these things were there but they were not being enforced. But with the bilateral agreement, they will now be enforced."
SEE ALSO: Why Saudi Arabia consortium pulled out of Sh42 billion Newcastle takeover
Speaking recently during the signing of the agreement on work-related issues between Kenya and Saudi Arabia, represented by the country's ambassador, Mohammed Khayat, Mr Yatani said all job applications would be done through an online portal dubbed Musaned. The Musaned system will reduce pay delays since the cash will be transferred directly from the employer's account to the employee's. Yattani urged other Middle East countries to improve working conditions and terms for Kenyans. The Saudi kingdom is a key destination for migrant domestic workers, hosting between 100,000 to 130,000 workers. The CS, through a seven-point request for better terms and condition for Kenyan workers, asked the Saudi Government to help in the training of more employees and recruiting of more skilled Kenyans in technical fields.
SEE ALSO: In Mecca, a fortunate few pray for a pandemic-free world
"We urge you to consider supporting institutions to ensure that the training undertaken conforms to requirements. Provide Kenya with an inventory of skills on demand in Saudi Arabia for sharing with Kenyan recruitment agencies," said Yatani. Labour migration He also asked Saudi Arabia to consider building the capacities of institutions involved in labour migration management in Kenya. The State also sought constant sharing of information and consultations between the two countries to address challenges. This, noted the CS, will ensure full operationalisation of the Bilateral Labour Agreement signed in 2016 and expected to be functional on January 21, 2019.
SEE ALSO: Saudi king, 84, has successful surgery - state news agency
He also asked that a joint working committee be set up to monitor the implementation of the agreement. The CS observed that the Government was undertaking reforms to enhance labour migration management. The changes include stringent requirements for registration of employment agencies through the Musaned system. "The number of agencies has drastically reduced from 1,000 to less than 100." Musaned was established in 2014 for the electronic recruitment of house helps and also lists the rights and duties of domestic workers. Yatani said the training would equip migrant workers with the knowledge, skills, attitudes, and values to enable them to cope with the challenges of their new work environment. Pre-departure training for migrant workers has been made mandatory. More than 100 representatives of recruitment agencies and Government officials have been trained on Musaned. The system eases contracting, provides accurate labour market information, offers speedy dispute resolution, reduces recruitment costs and increases transparency. "Review of the provisions of the relevant laws, strengthening of labour migration management institutions, enhancing the mechanism for collection and dissemination of data on labour migration through the labour market information system on Kenyan migrant workers are some of the reforms in the process," said Yatani. Others are a migrant welfare fund to assist workers in times of distress and safe houses for house distressed staff.