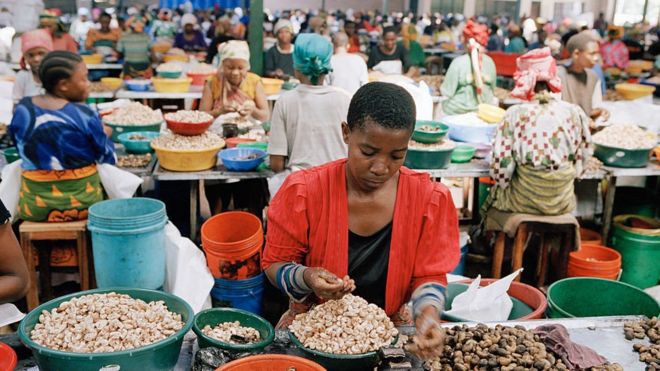 Tanzania's plan to buy the country's entire 2018 cashew nut crop could lead to a global shortage, with processors in Vietnam and India likely to be hit first, traders said.
Women work at a cashew nut warehouse in Abidjan, Ivory Coast. [Photo: Courtesy]
President John Magufuli has ordered a 94 percent increase to cashew nut prices to protect farmers from low prices and told his government to acquire the estimated 220,000 tonne crop after private buyers refused to buy at the higher price.
Tanzanians would eat the nuts themselves if they could not sell them, Magufuli said, raising concerns that the nation's most valuable export crop will not reach global markets.
If the nuts are not sold to buyers in Vietnam waiting for them, "there is going to be a shortage" Sushant Gupta, owner of Indian-based commodity trading company ReloBridge, said.
Read More
Cashew traders were caught by surprise by Magufuli's decree on Nov. 12 and Ian Dyas at London-based CG Hacking said the move would drive prices higher in India, a major processor and consumer of the nuts, and top processor Vietnam.
"In the short-term it will certainly do that (raise prices), especially in India," he told Radio France International.
Tanzania exports 75 percent of East Africa's cashew crop, the International Nut and Dried Fruit Council Foundation says and its export revenues doubled to $540 million last year from $270 million in 2016, official data shows.
Dyas said it was also unclear if Tanzania had the logistical capacity to store this year's August to December harvest.
But Tanzania's Deputy Minister of Agriculture Innocent Bashungwa told Reuters the government is capable in managing all the nuts currently in store and the cashews in the hands of farmers, adding the involvement of the army was for security.
"Cashew nuts are a valuable commodity. So we have to make sure that they are properly stored until we take them to the market," Bashungwa said.
"The army is there to make sure the cashew nuts which is already stored in the warehouses are safe."
No other country harvests during the same period as Tanzania, said Gupta, who imports from Ivory Coast, Africa's biggest cashew producer, for processing in Vietnam and India.
Magufuli said the military would assist in the buying and transport of the nuts and this week sent officials to "verify" the crop.
Cashew kernel prices have dropped to $7,500 per tonne from $9,500 at the beginning of the year.