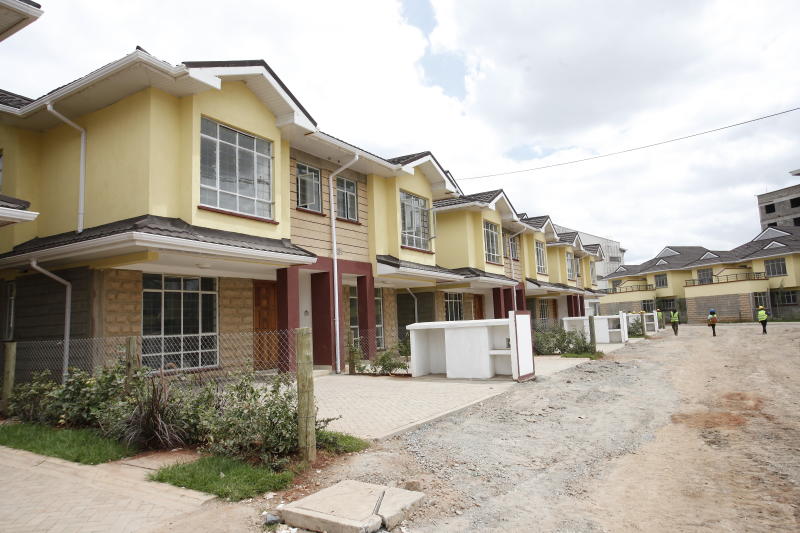 Despite election-related uncertainties, real estate registered a nine per cent growth last year, according to asset managers ICEA Lion.
But what is in store for the rest of the year?
High-net-worth individuals to drive sales
The recently-released Hass Consult half year report for 2018 indicates a renewed confidence in the housing market which is set to spur property market growth. High-net-worth individuals are expected to buy the bulk of new houses put up by developers as opposed to investors who depend on loans.
For the better part of 2017, reports say that no major real estate development happened until the elections were over. According to Hass Consult, the few people who had invested in the property market, especially in the semi-detached houses, got highest returns. The good returns are still expected in the property and land markets.
"Total returns on property tripled over the quarter, buoyed by rental increases in the semi-detached market," said the Hass Consult report.
It said total returns, which comprised rental yields and property price increases, rose to 11.4 per cent over the quarter.
The double digit growth in total returns is driven by rent escalations as landlords take advantage to charge higher rents following a return to confidence in the property market.
Interest rate cap repeal
Treasury Cabinet Secretary Henry Rotich announced, when he presented the 2018/2019 Budget statement, plans to do away with interest rate cap introduced in 2016.
This is expected to ease borrowing. There are, however, fears on the return of high interestrates.
"In order to enhance access to credit and minimise the adverse impact of the interest rate capping on credit growth while strengthening financial access and monetary policy effectiveness, I propose to amend the Banking (Amendment) Act, 2016 by repealing section 33B of the said Act," Rotich said in his Budget speech.
This is a statement that sparked debate that looks set to continue on whether or not to repeal the rate cap. Whatever the outcome, it will be closely watched.
Nairobi's precolonial districts and satellite towns
In the last four economic cycles of the real estate market, little change has happened on the list top performing areas in Nairobi or satellite towns in terms of property uptake, both houses and land. This is not expected to change.
Cytonn's half year market report says the best places to invest in apartment units are Kilimani, Westlands, Thindigua, Ruaka, Upper Kabete, South B and South C suburbs. Most of these areas have featured on top for a while.
The uptake of apartments and detached units in these areas has remained impressive all along. In the first half of 2018, the uptake of apartment units in Kilimani, Westlands, Thindigua, Ruaka, Upper Kabete, South B and South C was at 26.6 per cent on average.
The returns ranged from 10.1 per cent to 13.9 per, with Karen, Runda, Ruiru, South B and South C, Kitisuru and Ruiru ruling on the detached units front, with an uptake averaging at 23.8 per cent.
Satellite towns of Ngong, Ongata Rongai, Thindigua and Juja have remained in the top performers' list.
Land speculation
Land speculators who buy and wait have enjoyed honeymoon in Kenya longer than many expected. Land remains a worthwhile investment and you cannot go wrong with it in the last half of 2018.
Hass Consult's Sakinna Hassanalli said that despite the cooling of the land market over the last quarter of 2017, land continues to offer the best returns over the long-term.
"Investments made over the last 10 years yielded as much as 10 times the return in land than in equities and offered more than triple the return of investment in bonds," she said.
In Karen, for instance, land prices have increased from an average of Sh2 million per acre in 1998 to Sh65 million currently, according to Knight Frank.
In Upper Hill, land prices averaged Sh20 million an acre 20 years ago and have risen to about Sh600 million per acre today.
Malls buoyed by new anchor tenants
According to Knight Frank's Market Outlook report, local and international supermarket chains continue to take up retail space left behind by Nakumatt and Uchumi exits.
The report says Kenya is still open for more malls. In January, Naivas took over retail space at Development House on Moi Avenue, Nairobi, previously occupied by Nakumatt, as well as the space previously occupied by Uchumi at Capital Centre in Nairobi.
French retail chain Carrefour opened at Sarit Centre in April, taking over space vacated by Uchumi. Carrefour will operate in the space temporarily and shift operations to the new wing of Sarit Centre upon completion by the end of the year. It will also open its sixth store at Galleria Shopping Mall in July, taking over space previously occupied by Nakumatt.
Botswana-based retailer Choppies is also currently in talks with the owners of Nanyuki Mall to take over the anchor tenant space vacated by Nakumatt in January.
South Africa-based retailer Shoprite took up anchor tenant space left by Nakumatt at Westgate and Garden City Mall.
Both branches are expected to open within the second half of the year. Occupancy levels remained high for established malls at 90 per cent and between 60 per cent and 75 per cent for new retail centres.
This high occupancy levels indicate that there is still good demand for retail space in the right locations for the next half of 2018.