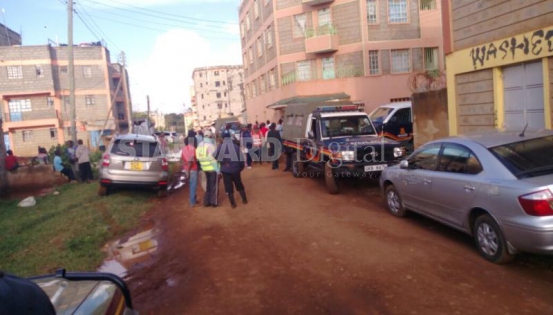 Mystery surrounds the recovery of part of the Sh50 million stolen from Kenya Commercial Bank's (KCB) Thika town branch last Monday. Witnesses said police seized the cash following a Saturday morning raid on a house in Juja town, where a woman had moved in last Wednesday. A tenant in the same compound said he saw the police carry three bags from the house into their cars parked outside. But senior police officers declined to comment on the alleged recovery despite social media reports that Sh20 million had been recovered.
SEE ALSO: KCB Bank sets aside Sh2 billion to support MSMEs in Laikipia County
A landlord of the building told The Standard that some money was recovered in one of his houses, which he had rented out to a woman last week. The man, who did not want to be named, said the new tenant had not lived in the one-bedroom house for more than two days. She had paid Sh10,500 for one month's rent. "Police broke into the house on Saturday and found a lot of money, which they counted for three hours. They did not, however, arrest anyone as there was no one in the house. They just left with the money," said the landlord. He added he did not know the woman because she was a tenant like all the others. A tenant in the building, who also sought anonymity, confirmed that police had found money in the house.
SEE ALSO: I&M Holdings, Co-op top bank rating for first quarter 2020 – Cytonn research
Some boda boda operators stationed near the house said the police camped at the house from 6am on Saturday. "We saw several private cars come and camp near the house. From the look of things, they seemed to be either Flying Squad or CID officers. "At first, we did not know who they were or what they wanted but later saw several police vehicles. That is when we heard that the money that was stolen from a bank in Thika had been found," said one rider. Some of the information circulating on social media indicated detectives attached to the Directorate of Criminal Investigation headquarters in Nairobi and Thika Police Station had on Saturday recovered Sh20 million from a house in Juja. But Juja OCPD Patricia Nasio said she was not aware of the matter as she was at home. She added that she came to know about the alleged recovery following updates on social media.
SEE ALSO: KCB Mvita branch closed as staff tests positive for COVID-19
Her Thika counterpart Willy Simba declined to talk to the media and instead directed journalists to Kiambu County Police Commander Adiel Nyange. But Mr Nyange also refused to comment, saying he was in church. He did not reply to our text messages. Efforts to get a comment from the Central Police Regional Commander Gideon Amala were also futile as he did not pick our calls or reply to text messages. A senior police officer at Thika Police Station, where the money was said to have been taken, however confirmed the police had recovered some money.
[email protected]