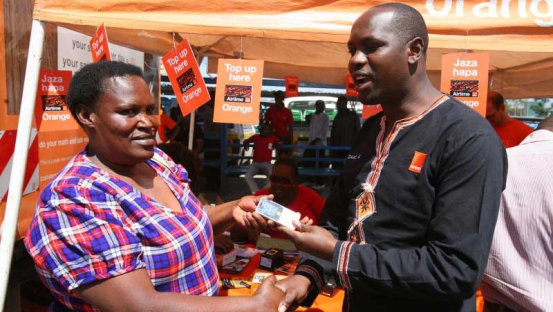 Business News
When newly-privatised firm started its mobile race, rivals had already done a few rounds.
Helios Investment Partners, the biggest stock holders in Telkom Kenya, have rolled up their sleeves and hope their recently unveiled turn-around plan will awaken the sleeping giant. The London-headquartered private equity firm that bought a controlling stake in the telco, says it believes it can conquer the Kenyan telecommunications market. The company that was founded by Nigerian-born duo Babatunde Soyoye and Tope Lawani has been camping at Telkom Plaza on Ralph Bunche Road for about a year now, and on June 6 unveiled to the public what they said would disrupt the telecommunications industry. They aim to increase the number of customers, get a return on investment and possibly eat into Safaricom's market share. The latter is the market leader and the most profitable listed firm in eastern Africa. In the short period they have been around, the new managers at Telkom Kenya have been doing some house cleaning after French firm Orange left the telco in a shaky financial position.
SEE ALSO: Standard, Safaricom in pact to sell digital newspapers
First, they had to weed out inactive subscribers, resulting in the number of customers going down by about half to 2.9 million as of December 2016, according to data from Communications Authority of Kenya (CA). This is against 5.2 million subscribers reported earlier in the year before Helios took over the reins. Orange, which acquired Telkom Kenya in December 2007, was reporting the number of subscribers in a model contrary to guidelines issued by CA. The regulator obligates operators to keep a 90-day record, which helps give the true nature of service reach by removing inactive customers. Second, the new owners said they had pumped in Sh5 billion in infrastructure upgrade, doubling the capacity of Telkom's 3G network and rolling out a 4G network in nine towns. The firm is preparing itself for a vicious battle to woo data customers, a key growth area for the industry. It is also preparing to launch a new mobile money transfer platform.
Customer numbers
SEE ALSO: Safaricom closes TRM shop after staff catches Covid-19
With these, Telkom says it is ready for a take-off after a 10-year slumber marked by losses, little progress in growing customer numbers and fighting with Treasury on governance issues, as well as the decline of its key fixed-line infrastructure. However, to understand the under-performance that Telkom posted while the Frenchmen were in charge, it is prudent to look at the events that took place when they were settling in Kenya. The acquisition of a 51 per cent stake in Telkom Kenya was completed in December 2007 and the company started making an aggressive stab at the market after taking on the Orange brand in August 2008. It is what happened one year to the rebrand that may have scuttled the plans that Orange Group (then operating as France Telecom) had in mind when they decided to venture into Kenya. In March 2007, Safaricom launched its mobile money service M-Pesa. It initially appeared to be a value-added service to the voice services and even a social responsibility endeavour aimed at increasing financial inclusion in the country.
SEE ALSO: Sanda Ojiambo becomes first African at the helm of UN agency
At that time, Orange and Treasury were still in negotiations on the privatisation of Telkom Kenya. When the discussions were concluded in December of the same year and Orange launched its brand in Kenya in August 2008, M-Pesa might not have appeared a major threat to the dream of turning around the firm. At the time, the telco had infrastructure that was the envy of any operator and a legacy running into decades; first within the Kenya Posts and Telecommunications Corporation and later as an independent entity, Telkom Kenya. But the mobile money service turned out to be the silver bullet that would entrench Safaricom's hold on the market and, over the years, be among the key reasons why customers stuck with the telco — despite numerous complaints about quality of service and even its competition offering fairly attractive calling and data rates, sometimes even for free. According to analysts Francis Hook and Leonard Kore from IDC East Africa, M-Pesa's entry into the market a year before the launch of the Orange brand presented a major hurdle for Telkom Kenya in making inroads in Kenya's mobile telephony industry. "Overall, Telkom Kenya started its mobile race in earnest only after being partially privatised in 2007. By this time, other players had already gone several laps around the track and had a good lead. What made the sale to France Telecom appealing was to have a mobile licence and fixed assets (and market share of fixed)," said the analysts.
SEE ALSO: Ojiambo relishes role at the helm of UN agency
"However, that same year, M-Pesa was launched and proved to be a key differentiator in the mobile space...and since then it has been hard for Telkom to catch up." According to the analysts, other factors that slowed down Telkom Kenya in the race for subscribers was a poorly-handled privatisation, political interference and corruption. The firm also made a few strategic blunders such as its Telkom Wireless product that had not been well thought out as well as slow adoption of technological advancements. Analysts say the Kenyan market is remarkably brand-loyal when it comes to telecommunications. This is especially bearing in mind the past rebranding exercises undertaken by Airtel — initially from Kencell to Celtel then Zain — all of which had little impact on the operator's customer base. If anything, says IDC East Africa, Airtel's market share has shrunk from about 36 per cent from the early years to the current 12 per cent.
SEE ALSO: Safaricom introduces feature that will alert you whenever someone tries to register a line using your ID
According to Peter Wanyonyi, a telecoms consultant, the Kenyan consumer is the "no-nonsense variety" and, besides now rebranding from Orange to Telkom, the firm will need to offer value and go beyond what current players are offering to get subscribers to even entertain the thought of shifting. "She (the Kenyan consumer) doesn't get carried away by flashy branding or rebranding and the pizzazz that surrounds such activities. The tough economic situation in the country means that the Kenyan consumer will always look for the option that gives her the best return for money," he said. "For this to change, it will need more than just rebranding. It will need game-changing service offers from an innovative telecoms provider in the country. From what I have seen of the Telkom offers, that provider is not Telkom," said Mr Wanyonyi.
Fairly attractive
When it rebranded this month, Telkom unveiled some products, especially in data, that are fairly attractive as well as the temporary offers, including free 4G internet and Whatsapp. It is also offering a Sh4,000 monthly unlimited bundle. The firm also said cross-network calls would cost Sh1.80 per minute, which is significantly lower than the average Sh4 per minute that Safaricom charges for calls, both on-net and off-net. Mr Wanyonyi, however, says Telkom failed to have a key differentiator to what the other two operators are offering and is showing up for the same battle it has lost in the past with the same arsenal and strategy. "This is what will work against Telkom, in my opinion: they offer nothing to make a Safaricom or Airtel customer switch to Telkom. What it is offering is not game-changing to most people," he said. "The company is offering some excellent data products, particularly for home users, but this is a segment dominated by urban types, many of whom are already signed onto multi-play plans from streaming and other providers." Some of the offers, said Mr Wanyonyi, are also quite static. "For example, the home internet data bundles are excellent but you cannot take them with you when you go to work. Therefore, if you buy the rather tempting unlimited data bundle for Sh4,000, you cannot use it when you leave home. You will need yet another bundle for your mobile." "This is a massive lost opportunity." The analyst said Telkom could have changed the data landscape in Kenya by offering end-users bundles that are cross-device. For example, he said, it would cost them nothing to offer the unlimited data bundle on home plans and have it come with two mobile SIM cards that also have the same unlimited data bundle at no extra cost. "This is the sort of plan that would worry Safaricom, because pretty much all of Kenya's urban types would migrate to such bundles in the blink of an eye," he said. During the rebrand event in Nairobi, different speakers talked of the fact that Telkom has immense potential that remains under-exploited. In particular was the reference to the company as a sleeping giant. "Telkom Kenya has a long history in the country. It has great assets, both mobile and fixed networks, national and international backbone infrastructure and wide variety of clients. Nevertheless, it is fair to say, Telkom Kenya has not achieved its full potential. We were the sleeping giant," said Telkom Chief Executive Aldo Mareuse. "In the 12 months, we have been working to turn around the company and today, the giant is awake." Treasury Cabinet Secretary Henry Rotich noted as much and hoped that the new chapter would end trips to Treasury by Telkom management asking the Government to finance the company. "Telkom has been a sleeping giant; in fact, snoring heavily. The management kept coming to Treasury for funds and I told them I would not give them any cent because we knew they were sleeping, and it was just a matter of waking up and doing what they were supposed to do," he said. "With competition setting in, the company has proved to be a resilient player. I challenge Telkom to be a front runner in innovation and, therefore, position itself as a worthy competitor in the industry. The market is competitive but I believe you are bringing in a new angle," said the CS.