KTN-Bamba TV partnership rolls out 30 more channels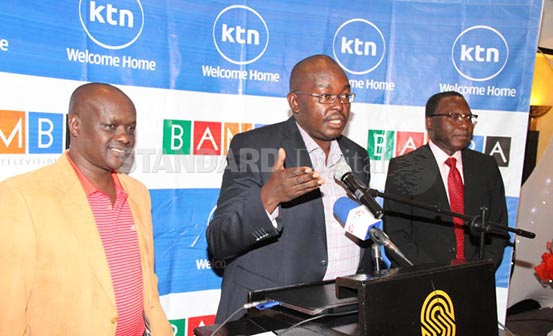 Thirty more channels will be added to the Bamba TV platform this year.
The new channels will provide a wider platform for advertisers who want their content customised to the specific taste of their targeted audiences. The platform is co-owned by the Standard Media Group and the Radio Africa Group.
Standard Group Chief Executive Officer Sam Shollei yesterday announced that the Kenya Television Network brand (KTN and KTN news) will co-produce the programmes with Bamba TV.
"We have about 28 channels on segmented audiences covering issues on women, children, education, entertainment and many others. Since we are able to aggregate a number of channels under one platform, an advertiser can consider fairly what will allow optimisation of returns," said Mr Shollei.
He said the channels will be specialised to offer advertisers a-one-stop-shop by choosing a set of channels that meet their targeted audience.
"We do not want advertisers to run all over when one can access a vast market of more than three million viewers from an affordable package of 30 channels."
Bamba TV General Manager Dan Muchira said an additional 12 Digital Terrestrial Television (DTT) sites will be added across the country by the end of the year, bringing the number to 25 with a 95 per cent coverage.
"We have signed contracts and a spectrum that has the capacity to hold over 60 channels," he said.
Take a quick survey and help us improve our website!
Take a survey
Mr Muchira said the uptake of pay TV was rapidly reducing as many subscribers opt for the free to air.
"As long as you have an FTA set top box, you can access Bamba TV channels since they are not encrypted," he said.
Shollei said the move presents an opportunity to develop low cost packages for the low end market advertisers.
"We will also come up with a mechanism of rating that will be conclusive. Currently, we depend on research whose methodology is to call people whom we are not sure actually tune in to the said channels or whether they reside in those particular areas," he said.
Last month, the Standard Group entered into a Sh300 million partnership deal with Bamba TV to co-own the digital broadcasting platform.