Police use teargas to disperse striking EPZ workers in Mombasa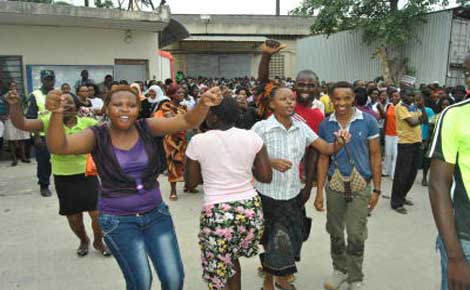 Ashton Apparel (EPZ) Limited workers dance in solidarity during their planned strike inside the company at Changamwe in Mombasa (Photo:Kelvin Karani)

MOMBASA, KENYA: Police on Thursday used teargas to disperse over 7000 employees of four EPZ factories in Changamwe Mombasa who are holding demonstration to press for a pay rise.
The workers led by area MP Omar Mwinyi and officials of Kenya Tailors and Textile Workers Union are on strike for the third day now demanding better pay and working conditions.
The union secretary general Joel Chebii accused the four factories of not paying overtime and not allowing employees to join the union despite the fact that the constitution grants them such rights.
Workers are also demanding reinstatement of 120 people who were sacked mysteriously from their jobs.
Pankaj Mehta, Financial Controller however said the employees were sacked over poor performance.
More to follow
Nairobi Governor Kidero should end the suffering of Nairobians
In her enduring writings that shaped the world's understanding of grief, Elisabeth Kubler-Ross, a Swiss-American psychiatrist opined that "The most beautiful people we have known are those who have known defeat, known struggle, known loss and have found out their way out of those depths."