By Ngumbao Kithi
The attraction of Mombasa cannot be complete without a mention of the picturesque scenic seafront along Mama Ngina Drive. It measures about three kilometres and is one of the most breathtaking parks found in the high humid Mombasa island.
Due to its closeness to the ocean, Mama Ngina Drive is the only public recreational facility where the usual sweating and discomfort has been eliminated by the fresh breeze from the sea. To ensure the park retains its traditional Coastal nature, a few selected hawkers sell madafu (coconut fresh juice) and kashiri (cassava crisps) from one corner. These hawkers help to quench the thirst of hundreds of visitors who come here.
In 2007, the park received a facelift to match the first-class standards expected as the host of the World Cross Country Championships.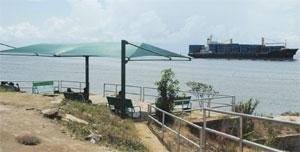 Mama Ngina Drive offers one of the best viewpoints where visitors can see cargo and cruise ships entering Mombasa Port. Photo: Omondi Onyango/Standard
Read More
Mama Ngina Drive is the only park that is open to members of the public 24 hours a day. Security lights have been erected at strategic positions, making it one of the most attractive parks.

Public toilets have also been built. Other positive changes include a lane for pedestrians to walk along all day and night long. Being close to the sea, the walks can both be scenic and romantic.

Mama Ngina Drive is so popular that it has been identified as one of the most suitable picnic sites in Mombasa. Most people who visit the centre come here to enjoy the fresh air and well-maintained gardens. Another attraction of this site is the opportunity to watch huge ships sail in and out of the port of Mombasa. Visitors from upcountry often get excited at this unusual site.

Day and night

Children's swings, gardens with trees and flowers and branded benches dot the picnic site, a collaboration between the Mombasa Municipal Council, the National Museums of Kenya and corporate institutions.

There are no more potholes along this drive, thanks to the cabro-works that patched them up. To ensure security, police patrols have been intensified to guarantee protection against criminals.

At night, Mama Ngina Drive lights up, thanks to the numerous billboards that line the street advertising various services and goods. Fun lovers have the option of visiting Florida disco club to dance the night out.