Why donkeys are Kenya's underestimated sources of livelihood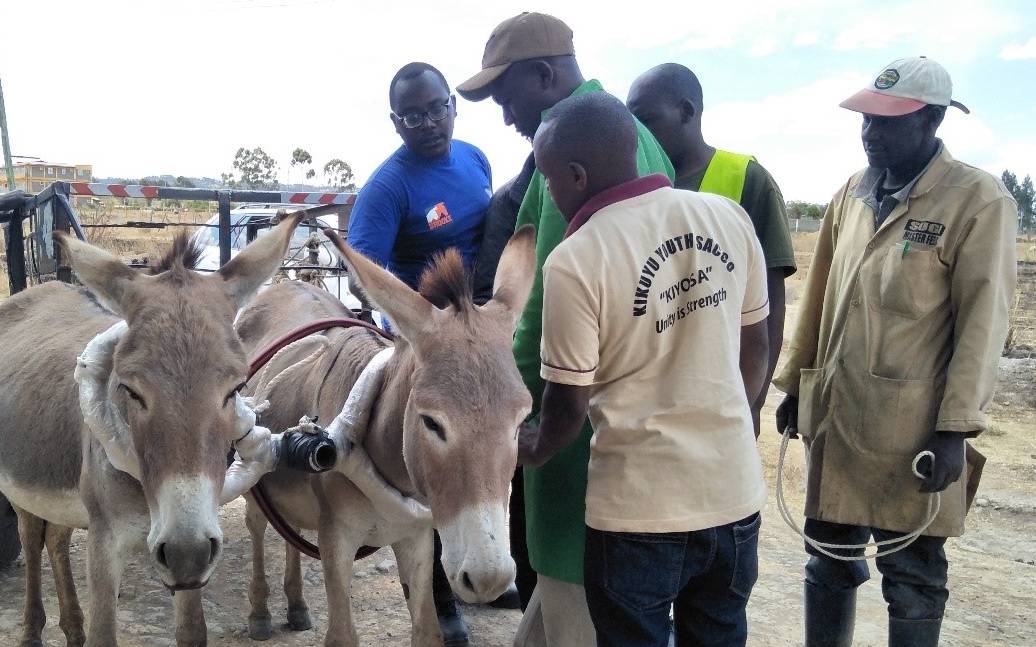 Donkeys are said to have originated in North East Africa and spread to other parts of the world. Humans have used donkeys for work for thousands of years. In Egypt, there are pictures of donkeys in the tombs of the Pharaoh. There are also many biblical references to donkeys.
The ancient Romans used donkeys for transport and agriculture. In modern society, their use has been associated with underdevelopment and low economic status. But, did you know that donkeys are sustaining many urban and rural households in Kenya?
The world perceives that economic growth makes people better off and that poverty can be gradually reduced as income increases. In areas like Mwea, donkeys are used mostly by youth to earn an income and better their lives. These youths use donkeys to transport rice and other farms produce to markets. Donkeys are also used to transport paddy rice from the stores to the drying fields and from drying fields to mills.
Donkey transportation business has helped many youths to improve their lives both economically and health-wise. Peter Murimi, a donkey businessman in Mwea town, narrates that, with his three donkeys, he has been able to provide a good life for his family, educate his children and buy a piece of land. "I was introduced to the donkey business by my elder brother over ten years ago. Day in, day out, I depend on donkeys to cater to my family needs. On a good day, I can take home between Sh 2,000 and Sh 2,500, especially during rice harvesting season" he narrates.
Like many other young men without formal employment, donkeys have been their saviour. Leonard Gichuho, a water vendor in Kikuyu town in Kiambu County, recounts that he left formal employment to be a water vendor. He says that, apart from being his boss and enjoying the freedom that comes with it, donkeys have done so much more for him,
"I used to be employed and received a good salary, but I opted to start my own donkey transportation business. In this business, the capital is small, but the returns are huge," shares Leonard. On average, he takes home Sh1,500 or more depending on the season. During dry months like January and February, the demand for water is high and he, therefore, sub-contracts other people to supply water to avoid frustrating his clients. With the help of his donkeys, he had a colourful wedding ceremony, carrying his bride on his donkey.
Leonard, together with other donkey owners working in Kikuyu, formed a donkey welfare group where they save part of their earnings from their donkey transport businesses. Through this group and the training provided by KENDAT, they have been able to invest and diversify their incomes. The group has bought a 1-acre piece of land which they intend to develop and some members have purchased motorbikes.
Donkeys not only change the lives of people living in towns but also in other parts of the country. In arid and semi-arid areas like Machakos and Laikipia counties, this saviour is used for fetching water. Many families rely on donkeys to fetch water, carry firewood and foodstuffs to and from the market.
The donkey saves many women in these areas from making many trips to the river. In a single trip, a donkey can bring home 80 litres of water while a woman can achieve the same after making four trips. The donkey, therefore, saves these women time, which they use to do other developmental activities that will improve the lives of their family members. In dry areas of Laikipia County such as Sipili and Kinamba, donkeys are used to fetch water for commercial purposes,
"The only job that I know is my water vending business in this locality. I usually wake up at around 6 am, take my donkeys and drums of water, and by the time I let them free to graze and rest at 2 pm, I have Sh1,200 or more in the pocket," narrates Samuel Karanja, a water vendor at Kinamba shopping centre in Laikipia County.
Donkeys are supporting the agricultural value chain in a big way. They mainly transport manure, fertiliser and other farm inputs to the farms and the produce from the fields to the homesteads and markets. This support is very critical, as households depend on income from marketing cash crops. The availability of donkey transport enables small scale farmers to be a step ahead in the marketing chain, thus retaining a large portion of the profit.
Most households in Limuru, Nyambari, and Soko Mjinga (flyover) in Kiambu County use donkeys for transport. These families take their vegetables such as carrots, cabbages and potatoes to the local markets using donkeys thus saving them high transport costs. During the dry season, when animal feed is scarce, farmers are forced to move long distances in search of livestock feed. Donkeys can carry a reasonable amount of livestock feed on their carts thus further proving the essential role they play in agriculture and the marketing chain.
Through the Heshimu Punda Programme (a partnership between KENDAT and Brooke East Africa) donkey owners are trained on donkey welfare and management. Through these pieces of training, the owners are better able to see the value of their donkeys and the benefits associated with caring for them better. Donkeys reduce the domestic transport burden for rural women and create employment and income-generating opportunities for many youths. The programme, therefore, emphasizes that a healthy donkey has a happy owner.
Martin Mwiti is a Community Development Officer at Kenya Network for Dissemination of Agricultural Technologies.