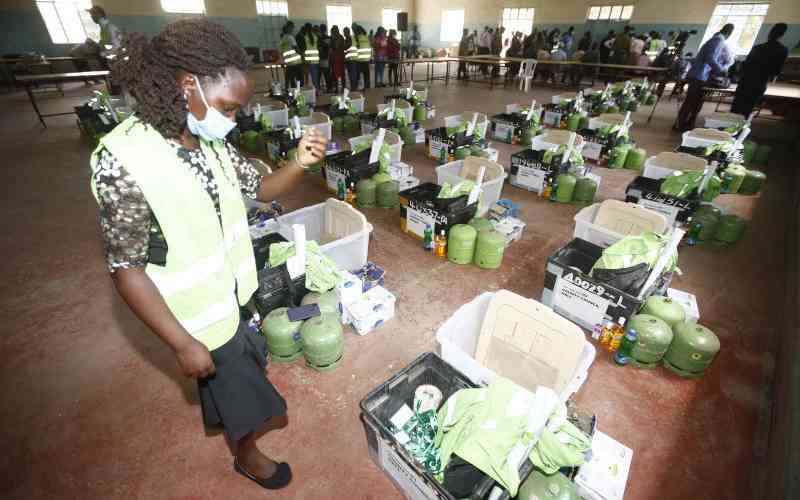 Working for the Independent Electoral and Boundaries Commission (IEBC) in the senior ranks can be about the most difficult job in Kenya. This is especially so today, when IEBC must give Kenya its fifth president, amidst heightened political differences and tensions.
Since the return of multiparty democracy, with the 1992 General Election, three successive electoral authorities (the Electoral Commission of Kenya, the Interim Independent Electoral and Boundaries Commission and IEBC) have been the easy whipping boys of the political class. Howsoever they have done their job, someone has always been unhappy. This year is not any different. Suspicion is already soaring up in the air. Appalling claims of inadequate preparedness have been made. Curiously, part of the interrogation has come from Chief Justice Martha Koome who should, perhaps, be waiting patiently for any complaints to reach her office, after the elections.
Such claims have in the past been curtain raisers to rejection of election results – usually the presidential result – by the losing side. It is too soon to tell who will win the presidential election, despite opinion polls that alternately place Azimio's Raila Odinga and Kenya Kwanza's William Ruto at the very top. Two other candidates, David Mwaure Waihiga of Agano Party and George Luchiri Wajackoyah of Roots Party, have been cast as minnows. They would appear to be in the presidential race largely to make a statement on the astuteness of the process, and as a test of the integrity of the electorate.
Wajackoyah and Waihiga are also in the race to test what the electorate really wants. They will test claims that Kenyans want leadership that is informed with honesty and sundry uprightness. Waihiga, for instance, comes on board with an impeccable record of integrity. If the electorate wanted a candidate with an unblemished record, as is often claimed, the assignment would have ended with the IEBC nominations in May, with the rest being only formalities. However, the Kenyan electorate is far from knowing what it wants in a leader. Accordingly, the electorate is a key player in the riddle of what ails elections in the country.
The contest is, therefore, solidly between Raila and Ruto, both who have accused each other of corruption, abuse of office, state capture and misuse of public resources for personal gain. From their toolkits of recriminations have been body blows that have landed squarely on IEBC. They have especially rained hard knocks on chairman, Wanyonyi Wafula Chebukati, and his two colleagues who remained with him in the commission for four years as a team of three, when four other commissioners had resigned. The IEBC Three of Chebukati, Boya Molu and Prof Abdi Yakub Guliye, have been under intense pressure for four years, during which their detractors have called for their resignation.
This time in 2017, IEBC was rocked with internal wrangles that pitted Chebukati and a section of the commissioners against the CEO, Ezra Chiloba, and another faction, against each other. They were locked in a power struggle for control of the electoral authority and management of the elections. There was also speculation about the possibility of conflicting political alignment by the two camps, each to the Jubilee Party of President Uhuru Kenyatta and William Ruto, and – on the other hand – the Raila Odinga led National Super Alliance (NASA).
At its apogee, the confusion in IEBC led to an August 8 presidential election that the Supreme Court nullified, for being chaotic and marred with irregularities and illegalities. Soon after, Chebukati sent a stern letter, on 7 September 2017, to the CEO seeking explanations about irregularities on ballot papers and their security features, obtaining of the chairman's password and its use in transmission of results on 8 August, failure in result transmission technology and why phones that were intended for use to transmit presidential results were not used.
A defiant Chiloba dismissed his boss, casting him in the mould of an ignorant witch hunter. He responded to Chebukati's memo, "The August General Election was conducted by the Commission, comprising the Commissioners and the Secretariat, who by law bear joint responsibility."
In a subsequent affidavit to the Labour Court, by which he protested against his separation from the electoral authority, Chiloba accused Chebukati and his team of commissioners of usurping and micromanaging executive functions, "I have observed on several occasions that some commissioners directly issue instructions to members of the secretariat without my knowledge. This has placed staff in a very awkward position in terms of reporting lines."
Chiloba and Chebukati also exchanged accusations on financial discipline and management in the entity, which at the time controlled a budget of close to Sh50 billion. There were turf wars on procurement issues; wars that raised issues that remain in grey space, even as the commission prepares for its next big assignment on 9 August, only three weeks from now.
Meanwhile, Commissioner Dr Rose Akombe had abdicated on 17 October 2017, saying, among other things, in a long letter, that IEBC was under siege. The commissioners were, accordingly, unable to agree on any one thing, as their political allegiance to external forces made it difficult for them to cede predetermined partisan positions on issues.
These echoes return from the past to disturb the commission, now on the final lap to the August 9 finishing line. Fresh suspicions and controversies emerge surrounding procurement of ballot papers and electoral integrity. As was the case in 2017, the suspicions are coming from the Raila corner, which has recently echoed its 2017 words.
In the emerged controversy about the use of electronic registers versus a manual register, Raila recently told a charged political rally, "We are saying that there must be a manual register at every polling station, it is not negotiable. We're telling the IEBC they must have a manual register along with the biometric identification of voters on that day; failure to which, there will be no election. Kama sio hivyo hakuna uchaguzi (If not so, there will be no election)."
Separately, Suna East MP, Mr Junet Mohamed, and who also serves as Raila's political majordomo, has expressed startling sentiments of alleged collusion between IEBC and Dr Ruto's Kenya Kwanza Alliance. In the first instance, Mr Mohamed alleged that a politician allied to Ruto was involved with procurement of ballot papers from Lycos, the Chinese printer who has the IEBC tender.
Mr Mohamed's allegation is full of significance, as a measure on the path towards a possible Azimio protest against the presidential election result, in the event that Kenya Kwanza wins. IEBC is placed in awkward space, from which it would need to show that there was no collusion between the politician and firm to print extra papers.
Moreover, Mohamed further alleges that the papers will enter Kenya from Uganda, already marked in favour of a Kenya Kwanza candidate, and stuffed into ballot boxes. The significance is that the politician's county is adjacent to Uganda. Hence, the boxes should find their way into Kenya via the county and possibly be presented as part of the election outcome in that county and, perhaps, elsewhere in the former Western Province.
Whether the allegations are valid or not, they besmirch Kenya Kwanza's efforts in the region and are a slur to IEBC and its electoral management integrity. The commission has made no more than a casual rebuttal against the damaging allegations. Yet, should Kenya Kwanza's forays into Western Kenya bear fruit that fatally injures Azimio in the election outcome, IEBC could find itself in a tight corner responding, alongside Kenya Kwanza, to fresh incarnations of these accusations, in the post-polling season.
That said, the altercations around technology bring back grisly memories of Chris Musando, the former IEBC guru for ICT. On the day when he was supposed to lead IEBC and Kenya in testing the Kenya Integrated Election Management System (KIEMS), his dead and badly mutilated body was, instead, discovered in thickets on the outskirts of Nairobi. It was a spectacularly bad moment for IEBC, for the Government and for Kenya.
It remains disturbing that five years on, almost to the exact day, Musando's death remains a mystery, alongside such other murders as JM Kariuki's, Dr Robert Ouko's, Bishop Alex Muge's and Prof Odhiambo Mbai's. Those closely involved with management of the elections have more than just the integrity of the process to worry about. Precedence suggests that they must also worry for themselves and for their safety. Election officials have been harassed in the past. Some have been physically assaulted, with nothing eventually being done against those who assaulted them. This is despite the fact that the villains have been people who are known by name and face. Most of these vile incidents have been captured on camera, to boot.
IEBC walks the tightrope over the next three weeks, and possibly slightly longer thereafter. The unfinished business between Chebukati and Chiloba could rear its head once again, as IEBC will be depending on the Communications Authority of Kenya for the stability and integrity of the communication technology to be used in result transmission. Mr Chiloba is today the Director General at the communications authority. Hopefully, the two will close ranks and work well, together, to swiftly and efficiently deliver a credible and democratic election outcome that reflects the people's choice.
As Mr Chebukati said in 2018 when three commissioners resigned on the same day, working for IEBC requires a lot of patience and resilience. It is that difficult season for the commission, once again. Despite the challenges, the commissioners and their senior staff will understand that the destiny of the country is now solidly in their hands. Hopefully they will not let down their country.