When buying a house is a bad idea
REAL ESTATE
In a society where owning your own house has always been seen as the best option, this is a question rarely asked but buying a house can, sometimes, be a bad idea. So, when is buying a house a bad idea? One such time is when you do it too early in life, before you are financially ready — Not being financially ready does not necessarily mean you cannot afford the house you are buying.
By By FRANCIS AYIEKO | 7 years ago
Managing malls no walk in the park
Backers of Garden City describe it as East Africa's largest retail and leisure mall, and home to Nairobi's first integrated shopping, living and working community.
By FRANCIS AYIEKO | 7 years ago
Targeting mid-income earners
The stretch between Nairobi's Kangundo Road and Mowlem Police Post is generally characterised by scattered middle-class homes and vast vacant spaces. But you can't also miss the few single-room lower-middle class residential flats that have sprouted up in the area.
By FRANCIS AYIEKO | 8 years ago
Taxing landlords won't raise rent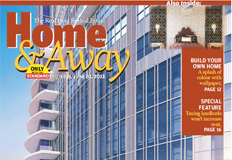 Your landlord could be planning to increase your monthly rent under the pretext of complying with the requirement by the Kenya Revenue Authority (KRA) that all landlords pay tax on rental income.
By Francis Ayieko | 8 years ago