Era of the scared man
SUNDAY MAGAZINE
I have had occasion to remark that if my great forebear, Kanyonga, he who was the proud husband and undisputed lord to 16 wives and countless children, came back to life today, he would be so dismayed by what he saw that he would demand to immediately die again.
By By Benson Riungu | 7 years ago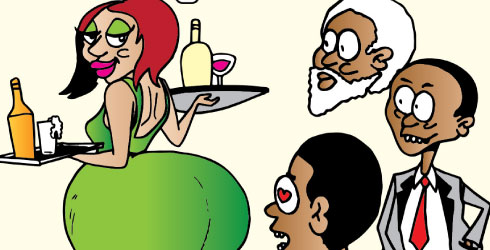 There's no fool like an old fool
My village, Uturine, is served by a watering hole going by the name Undecided Leisure Lodge.
By BENSON RIUNGU | 8 years ago
Tables have turned in my village; women now call the shots
If Kanyonga, the patriarch of my Uturine clan, were to come back to life today and surveyed the goings-on in the village he departed from almost a century and a half ago, he would angrily demand to be immediately reunited with his maker.
By BENSON RIUNGU | 8 years ago
When my brother openly defied priest's attempt to change his ungodly ways
Our local shopping centre in Uturini Village is served by a single bar, Undecided Leisure Resort
By BENSON RIUNGU | 8 years ago