Students beat the drum for national dialogue and peace at drama fete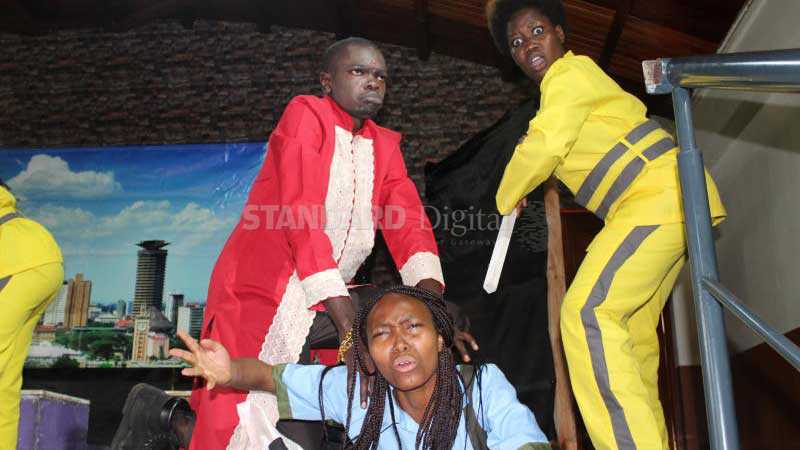 Hate and jealousy can drive siblings to dangerous levels of conflict. This character trait is depicted in Kenya Utalii College's play The Last Bullet directed by Francis K'Otieno.
Brothers Bakora (Moses Njuguna) and Bunde (Elvis Njuki) cannot agree on anything. Matters get worse when Bunde lands a job in the military and beats Bakora to a village beauty.
Their sister, Stella (Eunice Wanjiru) and mother Philomena's (Janet Wanjiru) efforts to reconcile them bear no fruit.
When Bunde is reportedly 'killed' on the frontline, Bakora takes over the family estate but unknown to him, his brother did not die but was held as a prisoner of war. On release, Bunde is welcomed back into the country with a promotion; however, he finds out that his brother messed up everything he built.
Wary of strangers
The Kenya Institute of Mass Communication presented a poem on the life of a young virgin college girl, Clara Wamboi. She gets a new laptop for her good performance in her studies and danger sets in.
In her Facebook interactions, she meets a Nigerian man, Mr Ike who travels all the way to Nairobi. A one-night-stand results into an unwanted pregnancy, after which Mr Ike flees.
She later gives birth after an attempted abortion fails, reconciles with her mother and finally resumes her studies. Aptly titled The Emoji and produced by Wycliffe Buhere, the poem warns youth to be wary of strangers they meet on social media.
The Railway Training Institute presented the play Wosia wa Sultan (Sultan's counsel), addressing issues of selfish, corrupt and suppressing leadership.
The play written by Florence Maingey and directed by Sebastian Mutua depicts a nation gripped in fear and untold suffering as a result of an insensitive and non-responsive government. In the end the nation cannot take it anymore and a new crop of revolutionaries forces the Sultanate out of power.
Kabete National polytechnic was ecstatic with their poem Chungu directed by Oscar Mudenyo and produced by Charles Akach, symbolising the delicate but crucial nature of a nation. It highlighted hope found in working together to preserve the delicate nature of peace.
NYS Craft Campus presented the play Tears of Waters depicting an incompetent regime and whose leadership is based on cronyism. Faced with man-made environmental challenges, the community sinks a borehole to manage threatening water shortage.
Recruitment is based on tribal affiliations without regard to qualifications, and the result is an exacerbated water problem, with many dying and communities pitted against each another.
Their counterparts, NYS Engineers presented Shades of Grey depicting a woman under the grip of a physically and emotionally abusive husband. Her attempts to run away are thwarted by family, including her father who insists she stays and works things out. But finally the law catches up with the drug taking husband.
Marydianna Mbuya of Kenya Utalii College presented solo verse Angus Dei, in which her parents are in perennial conflict.
She prays for them to resolve their issues because they impact on her education negatively. According to the fete's Chairman Wycliffe Tsinje, this year's Nairobi College's Edition of the drama fete is a notch higher over previous festivals, given higher number of participants.
"Entry of East African Institute of Certified Studies, Regional Centre for Survey and Mapping and Kenya Institute of Professional Studies and re-entry of Nairobi Aviation college has injected much-needed competition in the festival," he said.
Kabete National Polytechnic Principal Charles Akach lauded the organisers for their commitment to search for talent, saying today the arts pay.
"I was talented in acting but my parents then could hear none of it.
We are happy the government is mainstreaming the arts into the curriculum," he said in his address to teachers, actors and producers when he opened the fete that culminates to a winners gala today.