Gerald Langiri on risqué role, piracy and future projects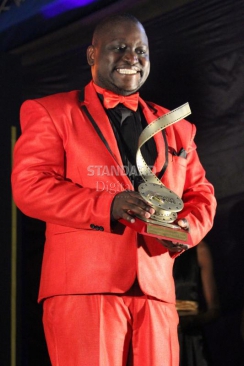 NAIROBI: Gerald Langiri's new film Fundi-mentals hits the cinemas this coming Thursday. Gerald plays the starring role of Joseph, an owner of a repair shop in Kinoo town. Gerald believes he is the best fundi in the area while that is not the case. When a multinational company wants to outdo them, Joseph and his assistant Moses (Charlie Karumi) resort to make extra money by offering sex to their women clients.
This role saw Gerald nominated for Africa Magic Viewers' Choice Awards (AMVCA) for the Best Actor in Comedy. The only Kenyan to bag a nomination for the prestigious award this year, he is facing five other actors in the category.
"I had my hopes high and crossed my fingers that I would be nominated. The nomination is intimidating but at the same time it is something I am proud about. This is the African version of the Oscars, and it is a big honour to be recognised by it," Gerald expresses.
Fundi-mentals is a second production under the Historia Films after their 2013 'House of Lungula'. Both movies have sexed-up scenes laced with the characters dressed in revealing attires, and in compromising situations, and using X-rated language. Gerald explains that his role as an actor is to play a role without holding any judgments against it. He has been attracting more comedy films by the day.
"Comedies are both easy and hard to make. We are nurturing people who want to be entertained and be made to laugh. We already have many problems in Kenya, therefore, we need an escape. But even as we create comedy films, we should not make sub-standard comedies," he says.
The film stars renowned actors like Lizz Njagah, Florence Nduta, Naomi Ng'ang'a, Veronica Waceke, Ojiambo Ainea, Ruth Maingi, Milkah Ndegwa, and radio personality Kalekye Mumo. House of Lungula too, had the who's who of the film industry.
"All-star cast sells a movie. What people fail to understand is that film is business. A film producer cannot invest his or her time and money on a production, and get little returns. An all-star cast pulls the crowd to go and watch a movie," he reasons.
Even with the all-star cast, Gerald admits that local cinema is yet to make good money out of the art due to piracy and lack of a cinema-going culture among Kenyans. This is what saw the closing down of many theatres across the country. He adds that the amount of money they make through the theatre screening of the films is not enough to sustain the film industry. Yet they rely heavily on theatres to make returns, other than Buni.tv and Udala.com that provide a platform where people can subscribe and watch the films. The other option is to package the films in the DVD format, however, piracy does not allow. He calls upon Kenyans to support the efforts they put in their films. "We were first exposed to Hollywood before the Kenyan movies. It is a good and a bad thing. The good thing is that we want to make high quality and expensive movies like those in Hollywood. It is a bad thing because our budget does not allow it, and we have to work within what we can but without compromising the standards," he says.
Gerald marks five years since he began professional acting. A lot has changed since then. His Internet Movie Database (IMDb) information is full, detailing his journey of his now five-year stint. The award-winning actor has shown his acting prowess in Stay, Mali, State House, Rispa, Papa Shirandula, Mashtaka, You Can't Hack This, Orphan, House of Lungula, Santalal and now Fundi-mentals. He has been a casting director for the feature film, Veve, Going Bongo and a number of series and commercials. He also has a blog, actors.co.ke, which shares information about the industry to the public.
So does he plan to create his own productions? "I have been thinking about it. I wanted to create my name first before venturing into producing and directing. I don't know when that would be but it is something that I have thought of doing soon," he reveals.
Fundi-mentals is set for premier on February 12, at IMAX Theatres, February 13, at Prestige Plaza, It will also be showing on February 14, at Two Hours of Sunset at Ngong' Racecourse, Nairobi.