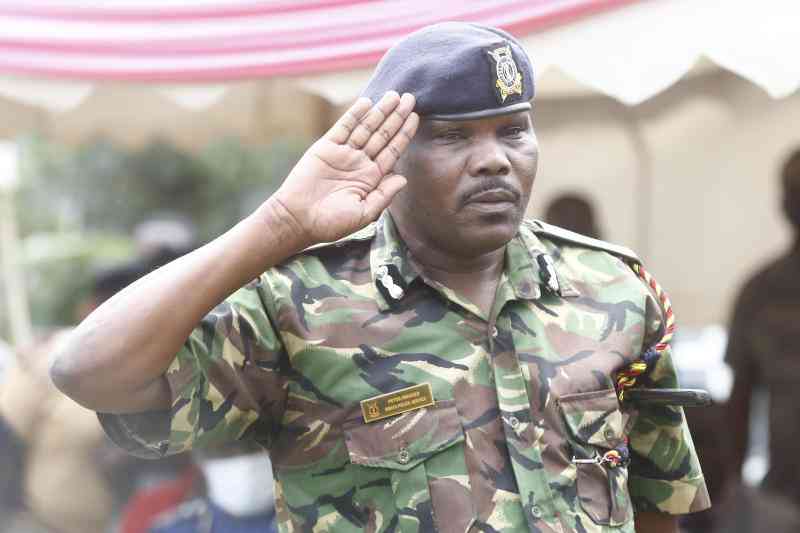 Peter Mwanzo, the incoming Nakuru County Police commander, boasts over 20 years' experience in the police service.
Mwanzo, who until Wednesday served as the Nairobi Kasarani police boss, has been picked to head the police service in the newest city.
His work was clearly outlined by Interior Cabinet Secretary Fred Matiang'i on Wednesday.
He has to crash the gangs that have been terrorising residents of Nakuru County. His main focus will be a gang known as 'Confirm' that is believed to be behind a spate of murders and robberies in the area.
Mwanzo yesterday told The Standard that he was ready for the work ahead.
"I have no doubt that am the right man for the job," he said.
Mwanzo said his professional background in GSU gives him a competitive advantage in dealing with the gangs.
Mwanzo is not new in Nakuru having served at the Nakuru Central Police Station as a station commander in 1999.
Mwanzo started his career as a police officer in 1995 when he was posted to Nairobi Central Police Station as a police constable.
It is here that he cut his teeth and after four years he was promoted to the rank of Inspector of Police and sent to Gucha Police Station in Nyanza.
At Gucha, Mwanzo was appointed the head of the Crime branch where he led the investigations team at the station.
He was later moved to Marigat Police Station, Kasarani and Central police stations where he served as station commander.
He also served in different capacities at the police headquarter, Vigilance House training department, Kenya Police College Kiganjo where he worked as an instructor and also the GSU training school where he was an instructor.
It was while serving at the Kasarani Police Station that Mwanzo's career came into the limelight. At the time he took over, the area was experiencing high crime rate, including armed robberies and organized criminal gangs.
At the time of his exit, Kasarani is one of the safest neighbourhoods on the outskirts of Nairobi.
Mwanzo attributes this success to his good relationship with the public and his officers.
"As a leader you need to have a good working relationship with officers and the community you serve".
He says this is one of the tricks he will employ in his new workstation.
He once fell victim to the more sophisticated criminals dealing with SIM swap.
Mwanzo told a Nairobi court how he lost close to Sh600,000 to criminals who hacked his mobile phone.