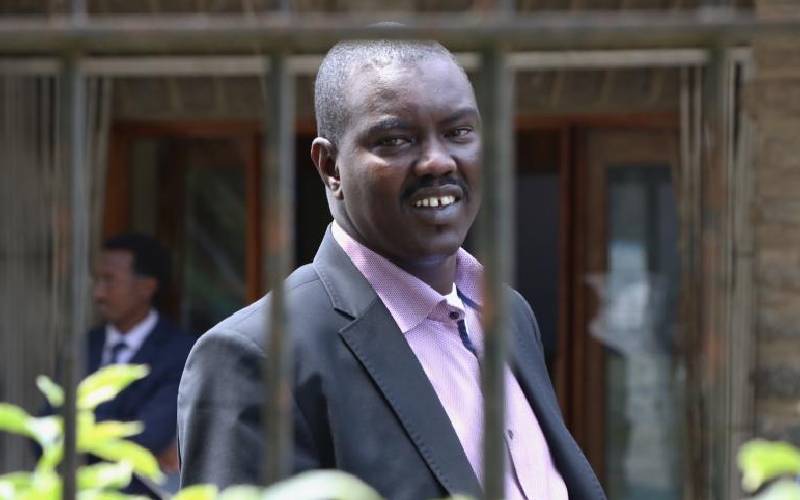 The battle to succeed Governor Jackson Mandago in Uasin Gishu has narrowed down to a three-horse race.
Political stakes are high in the cosmopolitan county that is the political backyard of Deputy President William Ruto who is flying the UDA presidential flag.
He hails from Turbo Constituency.
While UDA gubernatorial candidate Jonathan Bii aka Koti Moja is sailing through Dr Ruto's and UDA's popularity, Independent Candidate Zedekiah Kiprop Bundotich aka Buzeki, and William Kirwa of UDM have vowed to reach out to the electorates for popular votes.
All the candidates have elaborate manifestos that cut across all sectors ranging from Agriculture, Health, Education, and Sports in the athletic powerhouse, Environmental conservation and water provision, Youth and Women empowerment, and general infrastructural development among others, and it will be upon them to endear themselves to voters.
Bii's team has embarked on a door-to-door campaign.
"If we do not reach out to our supporters at the grassroots, they might end up voting for the party's presidential candidate at the top and an independent at the grassroots," one of Mr Bii's supporters told The Sunday Standard.
Mr Shadrack Rono who heads sBii's communications team said they are at the moment holding closed-door meetings with the electorates at the ward level.
"Our campaign framework is people-centric. We are meeting the electorate at the ward level and constituency levels to know their needs and aspirations and what their expectations from the next governor," said Rono.
He said different regions in the county have their own unique needs which is the reason they chose to engage voters directly.
Bii managed to sail through UDA primaries beating a host of competitors, among them two envoys, a sitting MP, and a Devolution CEC among others.
He in the past made several unsuccessful bids in parliamentary elections in Soy and formerly Eldoret North.
Bii says he is confident he will win the seat this time around.
With his background in education having chaired an education outreach programme at Moi University, part of his pledges to the residents of Uasin Gishu is to invest in value addition to agricultural produce to ensure farmers get good returns from their hard work.
"I intend to empower the population, especially the youth, to engage in Small and Medium Enterprises (SMEs) through open markets and agro-processing ventures to enhance trade on agricultural products," said Bii.
He also seeks to increase the bursary kitty to Sh300 million annually if elected. This, he says, will enhance access to education among children from poor backgrounds.
Improve livelihoods
Buzeki who is making a second stab for Uasin Gishu's governorship post as an independent candidate is also out in a full swing to reach out to the electorate.
"This time around, my strategy will be different. I will not be moving around in convoys but will individually reach out to voters. My point men will also seek votes from their respective areas so that we consolidate wider support," Buzeki told the press moments after his clearance by IEBC.
He is already out enlightening voters on the need to elect leaders who will be selfless in service delivery regardless of party affiliations. ​
In 2017, he lost to Mandago of Jubilee who garnered 193,604 votes against his 148, 121. During the election, a total of 343,124 voters participated out of 450,159 registered voters.
In an elaborate manifesto titled 'uongozi ni sera' and distributed to residents recently, Buzeki's mission is; "To empower and improve the socio-economic standards of the residents to achieve their full potential. This will be achieved through innovations, technical support, strategic interventions, and the creation of an enabling environment for the private sector to thrive."
He pledges an effective and efficient utilisation of public resources to improve livelihoods.
"Most of the political leaders lack essential qualities like integrity and accountability. We are therefore obligated to offer a sound and effective leadership that will end poverty and suffering in the society," he states.
Buzeki is the executive chairman and founder of Buzeki Group of Companies. Some community initiatives already supported by his companies include 'Mlo Mashinani' a programme that provides inputs to small-scale farmers as well as market linkages.
On his part, UDM's Kirwa has a seven-point agenda focusing on offering economic solutions to residents.
Key among the issues outlined in his agenda are enhancing service delivery and access to county resources.
Kirwa also promises to promote sports heritage.
Uasin Gishu County is endowed with diverse opportunities for economic growth and prosperity.
Apart from athletics, Uasin Gishu is famous for agriculture and is christened Kenya's grain basket.
Other opportunities in the fast-growing county include the presence of Eldoret International Airport, Moi Teaching and Referral Hospital, several top-notch private hospitals, two public universities – Moi and the University of Eldoret, several tertiary institutions including Eldoret National Polytechnic, and several industries.