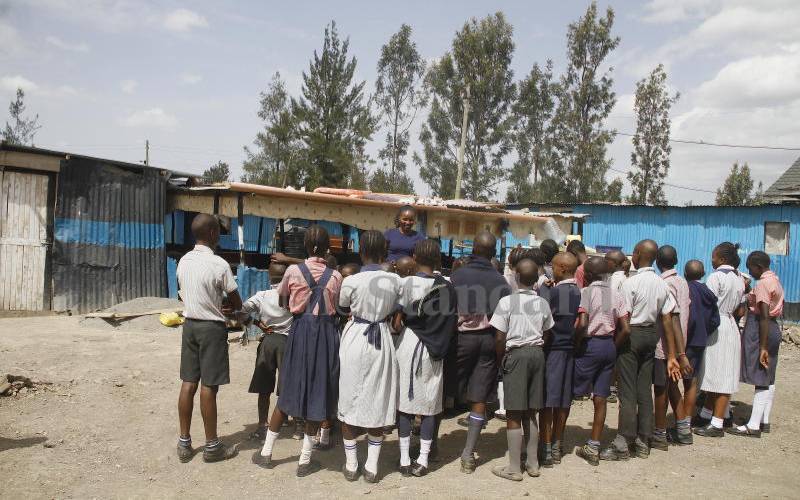 On a hot Tuesday afternoon, we drove some three kilometres off Kangundo Road in Ruai to visit an orphanage in the area.
As the driver navigates his way through the narrow tarmac road, one cannot resist the allure of the magnificent bungalows and maisonettes competing for space in this serene environment.
Soon, we finally arrive at our destination - Shammah Children's Home, which sits on a quarter-acre plot.
Ironically, while the neighbourhood gives you a sense of protection and confinement due to perimeter walls surrounding homes, Shammah Children's Home largely made up of old pieces of iron sheets, is largely exposed.
At first, we mistook it for a farmhouse until Ms Olive Karimi, the founder of the home, emerged from the compound about 100 meters away and waved at us to signify the direction.
The mix-and-match sort of arrangement in the home is enough evidence that most of the household items are donated. However, beyond the tattered walling and the roofs supported with timbers to avoid being blown off by the wind, lives some 75 children, who cannot ask for a better home.
After all, it is here their dimmed future and killed dreams came back to life.
Shammah Children's Home shelters children, who were either abandoned in the streets, hospitals or churches and those whose parents' deaths spelt doom for their lives.
Some girls in this home harbour pain and bitterness of being sexually abused by relatives or people entrusted with their safety.
Precious (not her real name) is the youngest one. She is 11-years-old. Her mother dumped her in a church and fled, never to be traced. The girl ended up at Shammah.
This shelter is not an arguably safe haven keeping many children out of danger, but also a dream come true for 37-year-old Ms Karimi.
As we settled for an interview, Ms Karimi's love for children, and more so, the destitute, was evident in her story as she narrated her 'missionary' journey since she was a child.
"It pains me to see a child suffer and since my school life, I believed a little effort could change their situation," she said.
She is the only staff here. She cooks, cleans, and gives motherly love to all the children, who are under her care for over 10 years.
"My heart is full. I do not have a child of my own, but I feel happy and content with these ones. I believe it's a God-given gift to embrace needy children," Ms Karimi says.
How did she end up in Ruai, hundreds of kilometres from her village in Embu, to mother tens of complete strangers?
Ms Karimi recalled how she visited an elderly neighbour's house, where she found a child abandoned by her parents and took her to her mother. She was only a teenager, but that was her 'first child'.
"I took her home and my mother was wondering what to do because no one knew where the child was from," she explained, adding that the girl, now 16-years-old is among the 75 children in Ruai.
During her high-school life, Ms Karimi loved children. She recalled how she took random children from school to her home to offer them food.
Her love for the children grew and as young as she was, she somehow knew she could do something to help the needy ones.
Her mother, Ms Ebeth Wanja, said her daughter started bringing children to their house when she was in school. Her friends, who didn't carry lunch to school would end up eating at their home.
"Karimi didn't care whether there was food at home or not. She would tell me to get pumpkins and bananas to feed them and that if the food depleted, God would provide more. How do you even respond to that? I gave up stopping her," said Ms Wanja.
Ms Wanja said her daughter's passion has landed her into trouble with some parents, whose children were taken by her daughter.
"I have been insulted on several occasions and accused of child trafficking. I had to alert the chief and the assistant every time she brought children home," she added.
Deep down, Karimi's mother understood that her daughter had a calling to care for abused, neglected and abandoned children, but she thought she was too young for the mission because she, too, depended on her parents for survival.
It's no wonder she warned her one evening while escorting her to the bus stage to Nairobi. "Usiende kuokota watoto Nairobi (Don't go collecting children in Nairobi streets)," Karimi recalled her mother's warning before departing from Embu.
It was Ms Karimi's first time travelling to the city after her brother secured a merchandising job in the city.
"I had to find ways to stop her because it was becoming overwhelming. She could bring children to our home and later, leave for school. At some point, I had to lie to her that some of those children were 'ghosts' to scare her away," said the mother, in a separate interview.
In Nairobi, it was always a fight between her and her sister-in-law over children flocking to her house and eating all the food.
Ms Karimi, a fifth-born, is a trained security expert and has worked as a private detective in several companies.
She studied at the Kenya Institute of Studies in Criminal Justice before advancing her course at Egerton University. Her training in criminology earned her experience through criminal investigations as a private detective and children's cases were not exceptional.
She secured her first job with Acceler Global Logistics and she had to move out of her brother's house and relocate to Embakasi. "That's where freedom began. I was free to interact with children and feed them," she added.
One evening, during her usual routines of feeding and playing with random children either from the streets or her neighbours, Ms Karimi got herself an assignment; more than she had bargained for.
"One evening I left early from work and they came to my house as usual. After feeding them, I asked them to go back to their homes, but two were hesitant to leave. One of them, didn't want to go and her friends managed to get her out, but the other one, didn't have a home to go to," she recalled.
"A certain woman selling groceries told me the boy was a frequent 'visitor' in the estate and occasionally, slept outside. His mother was a bartender and she would go for days without coming home. When she did, it was just to change her clothes and go back to work. I took the boy in for the night, nursed him and hoped that the mother would show up the following day," she added.
After three weeks of waiting for someone looking for their 'lost and found' son, the mother returned home. Surprisingly, she was not interested in reuniting with her son.
"I think after she realised that the boy was in safe hands, she fled. We never traced her and I ended up staying with the boy in my house. A few months later, I received another abandoned child and took her in," she added.
That became her trend. A trend filled with confusion, naivety, and compassion for the hungry, homeless and abandoned young ones.
The number kept on increasing and within a year, Ms Karimi had 18 children in her house. With no knowledge of the right procedures, she was at risk of being on the wrong side of the law.
She kept it a secret. None of her friends or family knew what she was doing.
"Sometime in 2015, there were so many news reports on child abductions and I would get goosebumps every time I heard of children reported missing and 'suspects' saying how they rescued them. I kept telling myself that I was next. I didn't know where to take them," she explained with nostalgia.
Ms Karimi couldn't take the pressure of working as a private detective and looking after the children. She opted to resign.
"I was depressed. I was sending some of them to my mother in the village to ease the pressure. My mother was bothered. She didn't understand what I was doing. No one understood me," she says.
Through friends and well-wishers, she managed to register a children's home and occasionally hunted for contractual jobs to enable her to feed and educate them.
"I had to accept that this is her calling and let her be. I tried to convince her to go back to work, but she refused. I choose to support her and send them food from the farm. I live with eight children, who are in secondary schools and universities," said Ms Wanja.
After being tossed from one tenancy to another, Ms Karimi and her children moved to Ruai, where a businessman leased them a quarter-acre piece of land at Sh4,000 per month. "I wish we could get money to buy land and build a good home," she noted.
Ruai location Senior Chief Nyabuto Omache believes that Ms Karimi's work is for a good cause.
"People who have built homes were resistant to the idea of Shammah Children's Home because they thought street children would steal from them. I had to convince them that they would be confined in the home and they bought the idea," said Mr Omache.
The administrator said Ms Karimi's initiative has benefited many children, who would otherwise have wasted away.