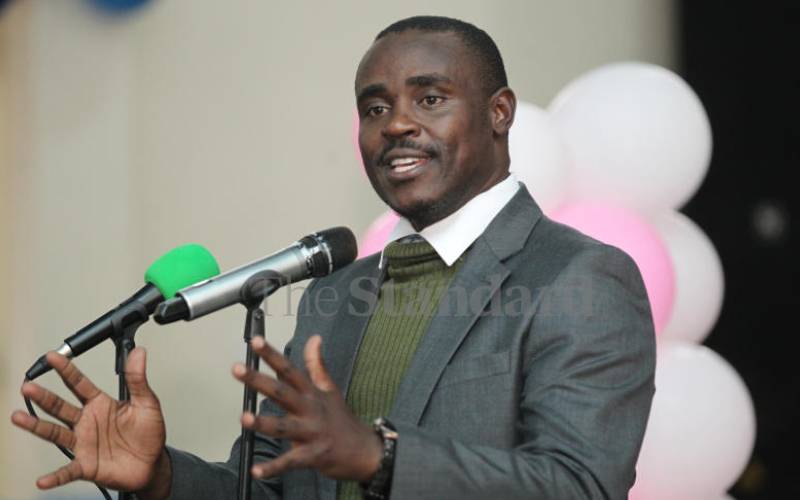 Two cases have been filed before the High Court seeking to block Kakamega Senator Cleophas Malala from the governor race over his academic qualifications.
Fred Muka and Frankline Shilingi have filed two separate cases claiming that Malala's academic documents are questionable and suggest he does not have a university degree as required by law to vie for a governor's seat.
Fred Mauka's lawyer Duncan Okatch questions Malala's Kenya Certificate of Secondary Education (KCSE) certificate claiming that it bears a different Kenya National Examination Council (Knec) code from the official code issued to Friends School Kamusinga by the examinations body.
At the same time, Okatch claims that Amani National Congress (ANC) party candidate never graduated from the United States International University (USIU). According to him, a cursory glance at the USIU's 2011 graduation list reveals that Malala's name did not feature in the list of graduands for Bachelor of Science in Information Systems and Technology. At the same time, he argues that Malala was not on the 2019 graduation list. The Senator said on a local radio station that he graduated in 2011, but he was issued a degree certificate on August 10, 2019.
In the case, Muka has sued Malala, USIU, its Vice-Chancellor, The Commission for University Education (CUE), Independent Electoral and Boundaries Commission (IEBC), the returning officer Kakamega County, Ethics and Anti-Corruption Commission (EACC), and the Director of Criminal Investigations (DCI).
"The petitioner herein is apprehensive that the certificates showcased by the first respondent (Malala) may be falsified documents and the sixth respondent (IEBC) herein may clear him to vie for the said position while relying on misleading information."
According to Okatch, a person interested to a county governor ought to be a holder of a degree from a university recognized in Kenya. At the same time, he or she ought to be a Kenyan citizen for at least 10 years before an election and does not hold dual citizenship. At the same time, he or she ought to be a registered voter nominated by a political party, eligible for election as a member of the county assembly, and meets all ethical and moral requirements.
Okatch said: "Failure to meet any of the criteria provided means that a person is automatically disqualified from vying for a gubernatorial position for failing to satisfy requisite conditions."
Okatch's client says that he wrote to the USIU Vice-Chancellor and the University seeking clarification on Malala's certificate but did not get a response. At the same time, Muka states that he then wrote to EACC to probe the authenticity of the senator's documents on February 14 this year but again he did not get a response from the anti-graft watchdog. He now wants the court to intervene and bar IEBC from clearing or gazetting Malala for the contest. According to him, IEBC might be compelled to recall ballot papers in the event Malala is disqualified from vying.
"The possibility of the first respondent (Malala) participating in the elections is real and it will fly in the face of the law, ethics and integrity if it transpires that the degree certificate relied upon by him is false," he says.