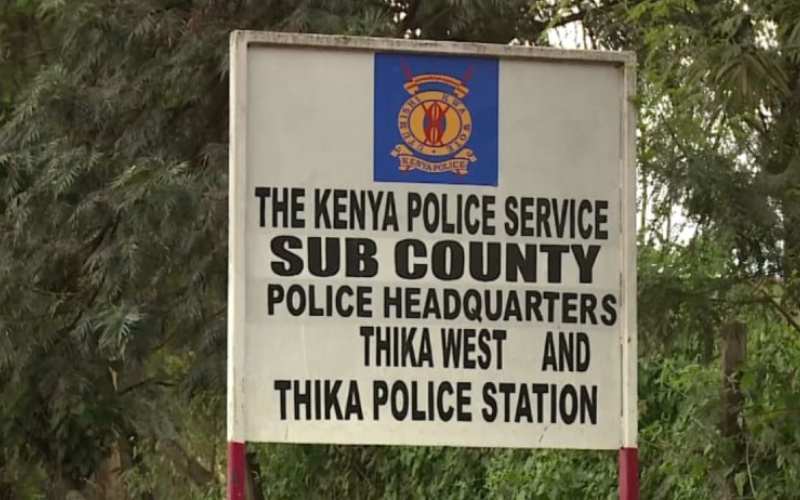 Eight remandees escaped from Thika Police Station in Kiambu County on Wednesday night after attacking a police officer manning the cells.
The escapees had been ferried from the Industrial Area Remand Prison in Nairobi and were awaiting arraignment for robbery with violence.
Police said the incident happened at 10 pm after one of the remandees tricked the officer, Amos Muteti, into a trap set by his accomplices.
According to a police report filed under OB Number 115/11/5/2022, one of the remandee called Muteti and requested if he could escort him to the toilet.
"Muteti alleges that when he opened the door, he was attacked by nine remandees," says the police report.
The cop says he was punched and kicked by the suspects.
"The suspects then forcibly took away the keys of the main door, opened and escaped before jumping over the police station fence," said the report.
Nine suspects initially escaped, but one, identified as Joseph Githu Nyanguthii, was recaptured, police said.
The other eight, who escaped successfully, are Livingstone Mwangi Njau, Francis Mwangi Matheri, Allan Njogu Mugai, Charles Nyaga Mitaru, John Mbugua Murege, Eric Ngigi Musige, Arthur Ndugu Kavemba and Bunton Kaguku Mbugua.
"Officers have been mobilised and are combining the surrounding areas to re-arrest them," the police report said.
Police Constable Amos Muteti has also been taken into custody to assist with investigations.