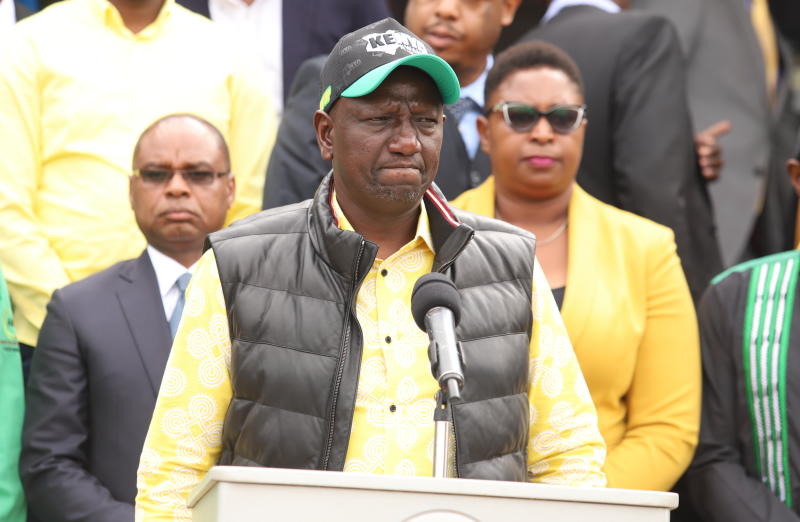 If you missed it, Kenya Kwanza presidential aspirant, Dr William Ruto, has promised to 'reverse' what the media captured as "Uhuru's Port, SGR deals" should he win the August poll. Azimio presidential candidate Raila Odinga has been quoted on a number of occasions saying, "I will jail corrupt persons" should voters contract him as the next State House occupant.
It is understandable that the presidential aspirants are under intense pressure to accept and promise anything as long as it adds one more vote. Yes, the vote hunt is getting to the homestretch after about three years of electioneering. The Presidency is the highest office in the land. It comes with power to influence or even manipulate people and systems.
However, some promises are honestly not worth making in the heat of our bitter election campaign. They have the potential to raise tension and polarise the country. Let us work with these two examples.
Of course, we all want a president who will go after the Covid-19 billionaires and the long list of public fund thieves. We do not want a president who will supervise as the so-called "corrupt small people" are arrested, quickly aligned in court and sentenced to several years in prison.
There is a difference between committing to fight corruption and committing to jail people who engage in corruption. As I understand it, the "learned friends" determine who is jailed or who walks home free. On the face value, this sounds like a question of semantics. Nevertheless, in reality it is far from it.
The strategies to "jail corruption suspects" and "to commit to fight corruption" are very different. Philippines President Rodrigo Duterte promised to "eliminate" drug dealers, corrupt individuals and criminals. Yeah, he kept his promise and started executing suspects to the extent that the world, the human rights organisations in particular, turned around to condemn him. He remains adamant about his strategy even after drawing anger from religious leaders in his country.
The high-level persons who have enriched themselves from the taxpayers money will do everything in their powers to fight whoever promises to "jail them". The electioneering period provides a fertile ground for them to sow seeds of conflict so that should the election outcome fail to favour them, they will incite people against perceived enemies. It will help commit to fighting corruption and let the courts deal with whoever is taken before them.
Similarly, the promise to 'reverse' the port and SGR deals seems to have been advanced by the Coastal leadership to the presidential aspirants. Kenya Kwanza has taken the bait and promises to reverse the deals. Unfortunately, we do not have the contracts the Chinese and other development partners signed to help us make reasonable judgment.
However, we can guess that opening up the high-level contracts will raise the eyebrows of whoever signed them. No one wants to go down without a fight. Even the Chinese will rise to protect their interests. Again, it is not a question of playing with words as words express not just meaning but intentionality. There is a whole world of a difference if the promise remains a commitment to "revise" rather than "reverse".
In both cases, aspirants can avoid polarising the country by being more cautious on their choice of words. Why do politicians think that the only way to campaign is through making promises some of which could endanger the peace that we enjoy?
We can fight corruption, correct past mistakes and introduce new programmes without appearing hell-bent to prove a point. A bit of self-control and the spirit of patriotism should guide, especially presidential candidates, to mind their words and actions. Many people don't reason well. Don't arm them with words they can use as cue to disturb our peace.
Dr Mokua is Executive Director, Loyola Centre for Media and Communication