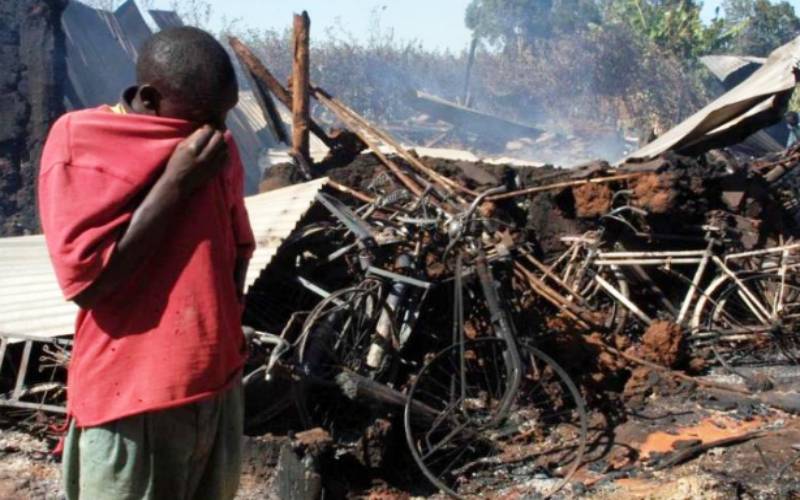 The Kenya Assemblies of God (KAG) Church in Kiambaa, Uasin Gishu County is appealing for Sh25 million donation to be used in its reconstruction.
The church was at the centre of deadly post-poll chaos in 2008, with 35 people, who had sought refuge in the building, burnt to death.
The church was reduced to ashes as non-native communities were attacked over the 2007 disputed presidential election results that placed Mwai Kibaki ahead of Raila Odinga.
Fourteen (14) years later, KAG says it wants to rebuild the worship centre.
The Sh25 million being sought by KAG, will also be used to construct a perimeter wall, the bishop-in-charge, Joseph Kamau Mariko, told The Standard.
"The construction has to start from scratch," he said.
Bishop Mariko said the new structure, to be built on a quarter an acre of land, will be able to host up to 500 congregants.
The bishop said a contractor's estimate indicates building the church would cost Sh25 million.
"The contractor has already arrived on site, and work has begun. The foundation, dug on a 70 metres by 35 metres land, is almost complete," he said.
In an advertisement placed in the Daily Nation Newspaper on Friday, March 25, KAG Church said the facility "has remained a monument of shame and a bitter reminder of the extremes of politically instigated ethnic hatred".
Bishop Mariko said that the church is seeking Kenyans' help to rebuild it after well-wishers, who had pledged financial aid, reneged on their decision to assist.
In the newspaper advert, the tone used raised eyebrows, with a section of Kenyans terming a part of it as "too harsh", considering the message is coming from a religious institution.
"Our main objective was to give out the details of the bank account and Pay Bill numbers [to the public]. I saw some wordings in the advert, which I don't agree with. As a church, we're not playing politics, and we won't allow division to mar our project," Bishop Mariko told The Standard.
Part of the targeted Sh25 million, will be used to build a house for the presiding pastor, said the bishop.
"We hope the high perimeter wall that we've factored in the design, will help assure the congregants of their security," he said.
Mariko declined to reveal how much money they've raised thus far.
To assist KAG Church rebuild the Kiambaa worship centre, you can send your contribution to Family Bank, Account Number 085000100123, or M-Pesa Pay Bill Number 222111.