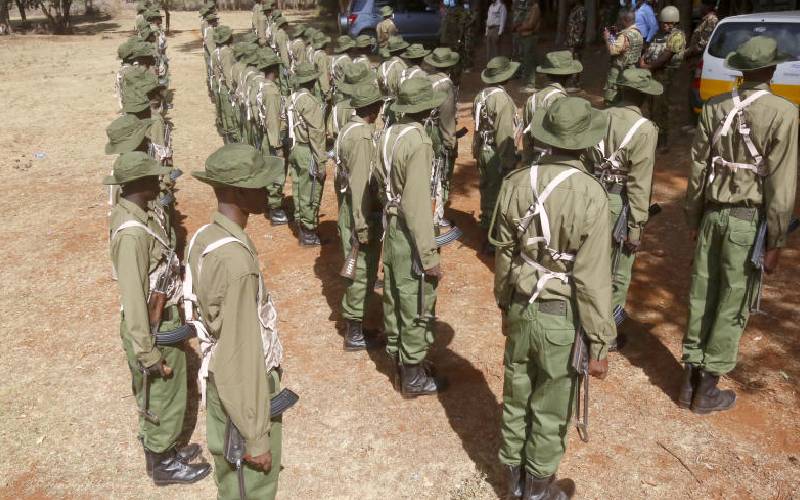 The government has reinstated Kenya Police Reservists (KPRs) who were withdrawn from the volatile Laikipia County two years ago.
"The KPRs will work with the police to restore peace in the county where several people have been killed and thousands of livestock stolen in the recent past," Rift Valley Regional Coordinator Maalim Mohamed said on Monday when he addressed a security meeting in Rumuruti and Ol Moran towns.
Mohamed said that the reservists will be stationed along the Baringo - Laikipia borders.
"We have today resolved to revisit this issue according to the pleas of residents. The police reservists will be working with the local communities as well as the security officers deployed here to ensure peace is fully restored in these areas," said Mr Mohammed.
The administrator said they are working with local communities and various government agencies to address insecurity in the region.
He pointed out that they have recovered five illegal firearms in the region in the last month and said they will not relent until banditry is contained.
The recovered weapons were two AK 47 assault rifles, two G3 guns, and one M16 gun, a rifle for semi-automatic or automatic operation that has been used by US troops since the mid-1960s.
"We have also arrested 15 criminals, among them politicians, who have since been arraigned in court," he said, adding: "We also want to know how the bandits got the guns. It is a matter of concern to us. It is on the account of these firearms being in the wrong hands that the police are often overwhelmed when tackling the criminals."
He said a 23-kilometre trench will also be dug to act as a buffer between the Laikipia Nature Conservancy and the neighbouring communities.
This is meant to reduce cases of invasion of the conservancy and other farms in the area. The buffer zone will also ensure stolen livestock don't find their way into the troubled ranch.
At the same time, Mohamed called on leaders from Baringo and Elgeyo Marakwet counties to initiate peace-building activities.
Police reports have indicated that over the past five years, about 50 people have been shot dead and thousands of livestock stolen in banditry attacks in the vast region covering Elgeyo Marakwet, West Pokot, and Baringo counties.
On Sunday, two people were shot dead by suspected cattle rustlers who attacked Koitilial village in Arror ward before driving away over 600 heads of cattle.
Seven people sustained injuries during the attack. Two of them have been admitted to Moi Teaching and Referral Hospital in critical condition. Two others have been admitted to Iten county hospital.