How Interior CS Fred Matiang'i plans to end Laikipia violence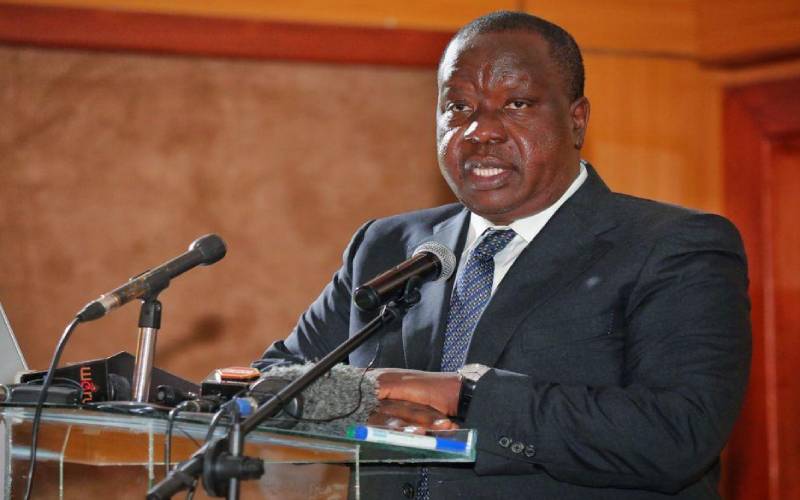 Interior Cabinet Secretary Dr. Fred Matiang'i has announced a raft of measures to curb unrest in Laikipia County.
The CS created a new police division at Ol Moran, deployed more police reservists and announced a plan to set up elite police training base in the county.
The Government had earlier created a new sub-county in Laikipia called Kirima aimed at tackling perennial insecurity incidents in the area.
Ol Moran, which has the new police division, will be the headquarters of Kirima Sub-County.
The minister also announced that two new police stations will be set up in the flash point zones.
Matiang'I, who visited Laikipia on Friday, September 10, said a contingent of new police reservists will be deployed to the disturbed areas.
The elite police training base that would be established in the area would serve as a buffer zone between Laikipia residents and invaders from neighbouring counties, the CS stated.
The Government also plans to deploy surveyors to Laikipia to expedite titling process and recommend action on lapsed leases or those which are about to expire.
The minister also said that the Interior department will engage other relevant ministries and agencies on how best to manage the Laikipia Conservancy, which has been deemed to be the centre of conflict.
The Government will also offer food, water, blankets and mattresses to affected families as resettlement efforts continue.
CS Matiang'i also announced that schools in the county will reopen on Monday, September 13, with police given strict instructions to provide security to the learners.
"More political leaders are on the radar for instigating the attacks ahead of the 2022 General Election," he said.
Laikipia County has, over the years, been marred by sporadic bandit attacks, as conflicts over grazing zones boil over.