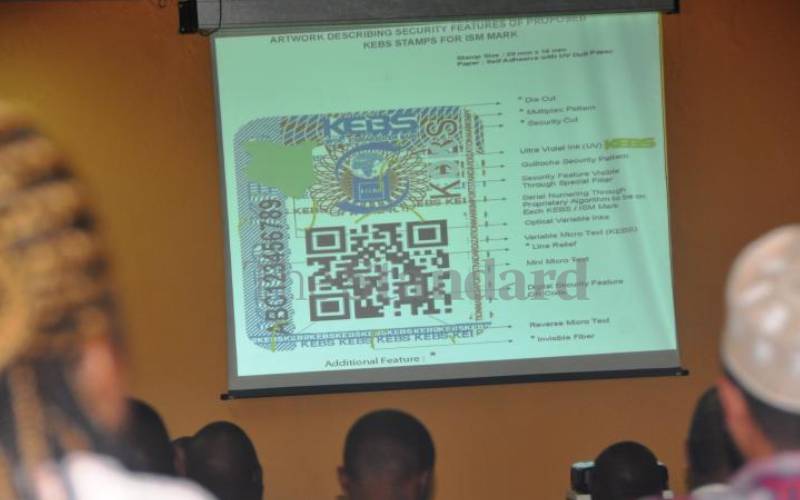 Kenya Bureau of Standards (Kebs) has urged local manufacturers to ensure quality products that are safe and can effectively compete in the market.
Kebs Coast regional manager Charles Musee who spoke during a meeting with CEOs of companies from the region said they have also embarked on rapid testing of commodities, including imported maize, to ensure it is free from aflatoxins.
"We would like you to aim for the Diamond Mark of Quality to ensure the country brands itself as the source of superior products in the region," said Musee.
The Diamond Mark of Quality also referred to as D-Mark, is a voluntary product certification scheme operated by Kebs. It is a mark of excellence awarded to manufacturers who have demonstrated a high degree of excellence in product manufacturing and quality.
"The diamond mark shows a manufacturer has consistently conformed to the requirements of processes. A number of companies have already been issued with the D-Mark due to their consistency and compliance with standards. I am calling on manufacturers to double their efforts to improve the quality of their products," Musee said.
He said Kebs has set up a rapid testing laboratory for aflatoxins at Lunga Lunga border with Tanzania to ensure maize imported into the country is safe.
Musee who was flanked by the agency's director for Metrology and Testing Henry Rotich, also issued certificates of compliance to Pwani Oil, Mabati Rolling Mills, Coast Cables, and Coast Battlers during the meeting.
He said the organisation has also embarked on a campaign to rid the market of substandard goods through its revamped surveillance department even as he called on stakeholders to be vigilant.
"Our surveillance department has been working to eradicate substandard goods. We want to ensure goods produced in the country are of high quality," he said, adding: "Kebs is working with other agencies in other countries to harmonise standards of manufactured goods."
He added: "We wanted to tell the CEOs about the services we offer to the factories around and also the service industry. We have quality assurance services, metrology services, testing services and we also support certification services in terms of quality management system and we also train the industry through our national quality institute."
Dr Rotich said that their focus is strengthening the collaboration of stakeholders and improving the quality of products manufactured in the country.
"We are working on several initiatives to make our country very competitive as a destination for investment and manufacturing. The focus is on improving the quality of our infrastructure so that there is acceptance of products as we export," he said.
"Kebs is now using the open door policy for industry and manufacturers. You are welcome to share ideas. Let us reason together and go ahead," he added.