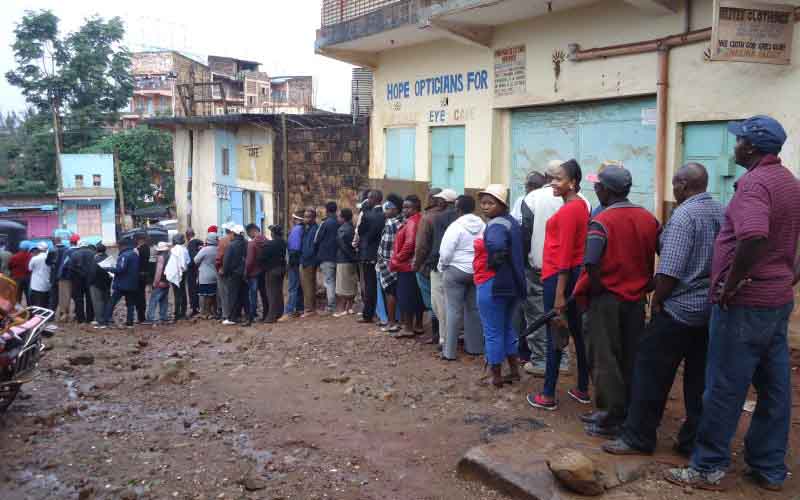 Top government officials are among the political bigwigs angling to succeed Governor Mwangi wa Iria's in Murang'a County.
In what is promising to be a bruising contest, the seat has attracted seven aspirants determined to lead Mt Kenya's fourth-largest county by population.
In 2017, the battle for seat was mainly between Wa Iria and Dr Moses Mwangi after the former defeated former Kigumo MP Jamleck Kamau in the Jubilee Party primaries.
In this year's polls, Kamau is back and is expected to face off with Water and Irrigation's PS Irungu Wairagu, Women Rep Sabina Chege and former PS Irungu Nyakera. Others in the race are Senator Irungu Kangata and Moses Mwangi.
Kamau, who garnered 118,274 votes against Wa Iria's 205,976, is upbeat that he will succeed the governor. He says his priorities include youth, agriculture and health.
"The current administration has done what it could. My administration will ensure continuity of the projects that will not be completed by the time Wa Iria's term ends," Kamau said.
After failing to unseat Wa Iria, Kamau, who was the Nairobi Metropolitan Services minister in the last Mwai Kibaki Cabinet, was appointed by President Uhuru Kenyatta to serve as the Tana and Athi Development Authority chairman.
He also entered into a pact with Wa Iria not to vie as independent, which has endeared him to some of the governor's supporters.
He banks on his experience as minister and two-terms in Parliament to woo voters to elect him as the second governor of Murang'a.
"My track record as Kigumo MP speaks volumes. I improved education and the constituency was ranked top in many respects. Infrastructure development was one of my key achievements," he told The Standard.
While he was an MP, Kamau lobbied for the construction of Kigumo Girls High School under the Economic Stimulus Programme of 2009. Through his Kigumo Endowment Fund, he sponsored bright but needy children to higher learning institutions.
Kamau has not yet declared which political party he will use to contest, saying he is still consulting.
PS Wairagu, who has been using water projects in Murang'a to endear himself to the masses, plans to resign later this month to embark on campaigns.
The PS, who has baptized himself 'Kwaura Kwaura' which means 'shedding the water jerricans' seeks to win the support of women who encounter difficulties accessing and fetching water.
Mentored by the late Cabinet minister John Michuki, Wairagu has served in the Ministry of Interior, rising from the Principal Administrative Secretary to Secretary of Administration, Director of Administration, Senior Deputy County Commissioner and Assistant Secretary in the Ministry of Local government.
His "Kwaura Kwaura" slogan has been gaining traction. He takes credit for water connections which have risen from 21 per cent to 62, while proximity to connections is estimated at 80 per cent.
"What we are remaining with is the last mile connectivity which is a preserve of the county government. This is what we will be looking for by having one home, one tap," he says.
Chege, who has been Woman Rep for two terms has declared she will be contesting the governorship.
"I am ready to fight it out in the male-dominated contest since I believe it is high time people embraced women in leadership," she said.
Her priorities if elected, she said, would be youth empowerment and job creation.
"For the last 10 years, there has not been proper engagement of the youth. We shall seek to involve them and by creating a conducive environment for job creation and establishment of industries," said Chege.
Senator Kangata hopes to use Deputy President William Ruto's United Democratic Alliance's popularity to sway the electorate.
Kangata was elected in 2017 after serving as Kiharu MP for one term but before then, had served as a councilor in the defunct Muranga Municipal Council, which he sees as good grounding for the governor's race.
"If elected governor, I will implement the Ward Development Fund which I have been pushing for as a Bill that was frustrated in Parliament. I believe wards are the most crucial units of development and will entrench devolution," Kangata says.
Former gubernatorial aspirant Moses Mwangi has started grassroots campaigns and has mounted billboards explaining his vision.
Mwangi has been vying for governor since 2013 and hopes to clinch the top seat this year. The pharmacist says his priority will be streaming the health sector.
"In the first 100 days of my administration, I will improve services, ensure doctors are deployed and medicine provided in health centres such as Kaharo, Makomboki, Ndakaini and others," he said.
Nyakera, 38, seeks to use his influence in agitating for better tea prices to clinch the gubernatorial seat.
He chairs the Kenya Tea Sector Lobby Group and the Kenya Coffee Platform Lobby Group and was recently appointed the chairperson of The Farmers Party of Kenya, the outfit he will use to vie for the governor.
Nyakera, a Starehe School old boy, served as a director at Equity Bank before joining the government as PS.
Other than Nyakera who has announced his party, others are yet to declare the party they will use.
Mwangi, however, said he will be contesting as an independent candidate.
"I can't join Tanga Tanga group come rain come sunshine," said Mwangi.
Some factors that could influence the 2022 politics is the divide between Muranga South and Muranga North. The governor, the Woman Rep and the Senator have come from Murang'a North since 2013.
Some pundits feel the South feel disenfranchised and could gang up against the North to produce a governor. Kamau and Mwangi hail from Kigumo and Maragua.