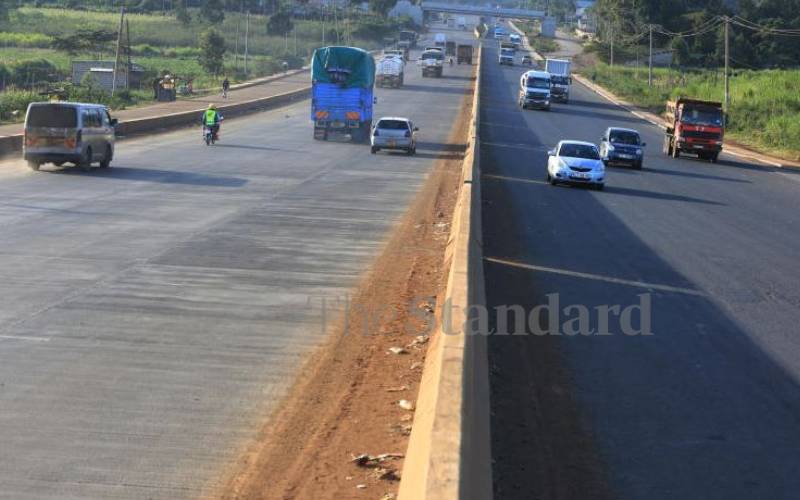 A tragic accident that claimed the lives of two brothers at Kamandura in Limuru along the Nairobi-Nakuru highway on Tuesday has been blamed on poor road signage.
The two, Isaac Ndirangu Muikia and Amos Kanyoi Muikia, were killed when their car hit a boulder on the road that is under construction.
"There was nothing… no signage showing there was a boulder on the road. Their deaths could have been prevented had there been something to warn them that there was danger ahead. The contractor should have put up proper signage," said Mwangi Muikia, a relative of the brothers, who spoke from their home at Murungaru in North Kinangop, Nyandarua County.
Mr Ndirangu and Mr Kanyoi – both survived by widows and children – are expected to be buried on Saturday at their family home in Nyandarua County.
Family and friends, this week, met at the site of the accident for prayers.
"I ask the government to take precautionary measures to ensure these kinds of accidents do not happen again. There should be enough signage to guide drivers especially when visibility is poor, for instance, when it is raining or misty," Mwangi said.
Kenya National Bureau of Statistics (KNBS) statistics show that fatalities from road accidents have been on the rise in recent years. In 2020, the country reported 3,975 deaths due to road accidents.
Between 2019 and 2021, KNBS reported a 24 per cent increase in road accidents.
"The number of reported traffic accidents rose by 24.2 per cent to 8,919 accidents while the number of reported road traffic casualties increased by 7.8 per cent to 16,970 in 2020," said KNBS in the Economic Survey 2021.
"The reported fatalities from road accidents rose by 10.8 per cent from 3,586 in 2019 to 3,975 in 2020. Similarly, the number of persons that were seriously injured increased by 15.5 per cent to 8,026 while the number of persons that were slightly injured dropped by 4.6 per cent to 4,969 in the review period."