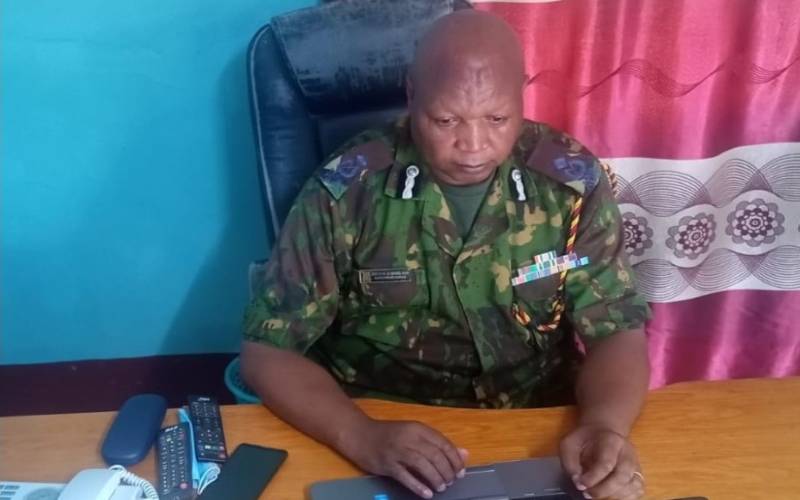 A police officer who used dialogue to break up rioting youth during the 2008 post-election violence is set to retire from the Service later this year.
Joseph Musyoka Nthenge was one of the positive news at the height of the post-poll chaos that left more than 1,100 people dead and approximately 650,000 displaced
Instead of using brutal force to disperse the rioting youth from Huruma, who were destroying property, the GSU officer employed dialogue to arrest the situation.
"Na hii Kenya tumeijenga kwa miaka mingi, kwa nini tuiharibu na siku moja? (Why do you want to destroy the country that has taken us years to build?" Nthenge was captured saying in a video clip that went viral.
For his patriotic gesture, Nthenge, a Post-Blast Investigation graduate from the prestigious Louisiana Police Academy in the USA, was awarded the United Nations Person of the Year Award in 2008 for his contribution to peace in the country.
Now, the North Eastern Deputy Regional Commander, who is also a Lay Leader at the Africa Brotherhood Church (East and Central Africa), said he will use the Bible to continue spreading peace when he drops the gun, later in the year.
"As a leader, my role is to guide the flock. This is what I plan to do when I retire later in the year," added the officer, who hails from Iviani Village in Machakos County.
Nthenge has been in the Service for 39 years. But now he plans to return home to spend time with his wife, six children (four girls and two boys) and 10 grandchildren, when he retires.
The National Police Service, on Thursday, January 27, honoured the peace champion for his heroic words of wisdom that saved the nation from further political and social crisis.
"There will possibly be a monument to immortalise and celebrate this man in future, and his sacred words will be inscribed in gold," the Police wrote on their social media accounts.
Reflecting on the 2008 incident, Nthenge, who grew up in a church environment, told The Standard that he dreams of a Service that will use alternative conflict resolution methods when resolving disputes.
"I'm left with less than a year in the Service, but I am not worried about going back to the society because I've served them well. I love people, I love women, but only for advice. If you serve people diligently, they will always love you back.
"I want to see a Police Service where there is free interaction between the officers and civilians because once we retire, these are the people we go back to," added the Arizona-trained Border Security expert, who is currently based in Mandera.
Nthenge also advised politicians to avoid making remarks that would polarise the country.
"God uses people differently. My action lessened the tension that used to exist between police and the civilians. I saw no need of using violence," added Nthenge, even as he appealed to politicians to preach peace ahead of the August 9 General Election.
"We cannot afford to go back to the dark days. There will be a country even after elections are done. Let politicians not play with this country."