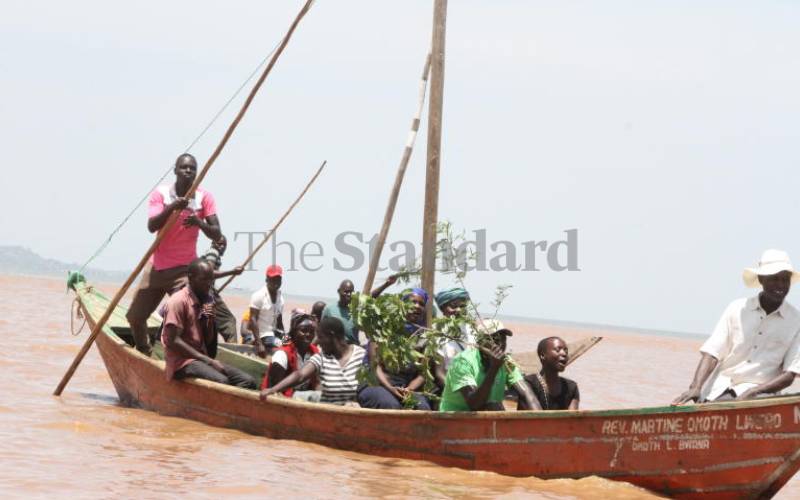 Six Kenyan fishermen from Kibro beach in Mihuru, Migori County were arrested by Tanzanian security in Lake Victoria.
Kibro Beach Management Unit (BMU) chairman Joel Maulidi said the six fishermen were allegedly waylaid by Tanzanian authorities on Monday while on a fishing expedition before being transferred to Sota beach in Tanzania where they are being held.
Joel, however, told the Standard over the phone that this time round the officers from Tanzania did not seek ransom to secure the release as had been in the past days. The Kenyan fishermen are expected to appear in court where they will be charged with trespass and illegal fishing.
"We have sent a team to Tanzania to negotiate terms for their release and have our fishing gears, two boats, and the entire catch which were also confiscated during the Monday night raid released," said Maulidi.
"I am also on my way to Tarime where we expect our people will be transferred to secure their release. However, the Tanzanians have not told us exactly what they want," he said.
Muhuru Bay MCA Hevron Maira said leaders and fishermen in Lake Victoria have been pushing for a joint East African Community licensing in the fishing industry to end the harassment fishermen are facing while in the lake.
He said local leaders are concerned after the arrest and detention of six fishermen in a similar fashion on June 15, 2021, after nine others were held captive for alleged trespass into Tanzanian waters.
"The Kenyan and Tanzanian Government should come up with a joint East African license to end the current boundary conflict in Lake Victoria. The boundary is not clearly visible and in most cases, the Tanzanian authority end up straying into Kenyan waters and making the arbitrary arrests," said Maira.
Maira said the leaders are pushing through a petition at the East African Legislative Assembly in Arusha that will see the East African Community have a joint operational license.
"The constant harassment Kenyan fishermen are facing while in the lake will only come to an end once we get the license and it will also give our people easy time and good relationship between Kenya, Tanzania and Uganda," said Maira.