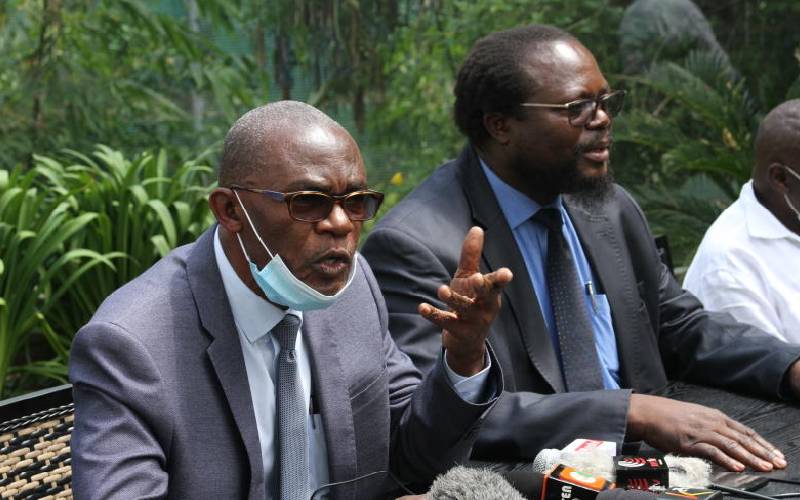 After being told to provide a properly signed PP7 form, by the Registrar of Political Parties, Ford-Kenya Secretary-General Eseli Simiyu and Kanduyi MP Wafula Wamunyinyi were on June 5 at the registrar's office with what they said are duly signed forms. Addressing the media after meeting the registrar, Wamunyinyi said he trusts the list of the new party officials will be published today having met the requirements. "We have fulfilled all the requirements to effect the changes. We trust that by the end of today the new officials will be published," he said. Wamunyinyi who was named as interim party leader cautioned the Moses Wetangula-led faction to stop intimidating NEC members who made the changes so that the party can move forward.
SEE ALSO: ANC offices in Kakamega burnt down
"It is sad that our colleagues have now turned to threats and intimidations to the NEC members who participated in a democratic process of changing party officials, let them join us in moving the party forward," he said.
Sustained threats
Eseli has accused party leader Moses Wetangula of threatening party NEC members who attended the special party meeting to sign affidavits denouncing what they did which is unlawful. He said they are going to record a statement with police over threats targeted at the NEC members who attended the special meeting. He said it was wrong for the Wetangula group to resort to threats and intimidation to NEC members, adding that Kenyans can now see why the party leader was removed.
SEE ALSO: Wamunyinyi takes fight with Wetang'ula to court, cites mischief
"We are going to report this to the police to make sure our NEC members are protected from the threats," he said. Eseli, however, told the NEC members to remain steadfast despite the threats, adding that the law is on their side. "Elected MCAs are being threatened with dewhipping from assembly committees while their nominated counterparts are told their nomination would be revoked as some are being told they will be killed," said Eseli. He said now Kenyans can see for themselves why the NEC members decided to remove Wetangula from the party top position "Now you can see all these sustained threats to those who participated in a lawful process ad that is why we said enough is enough."