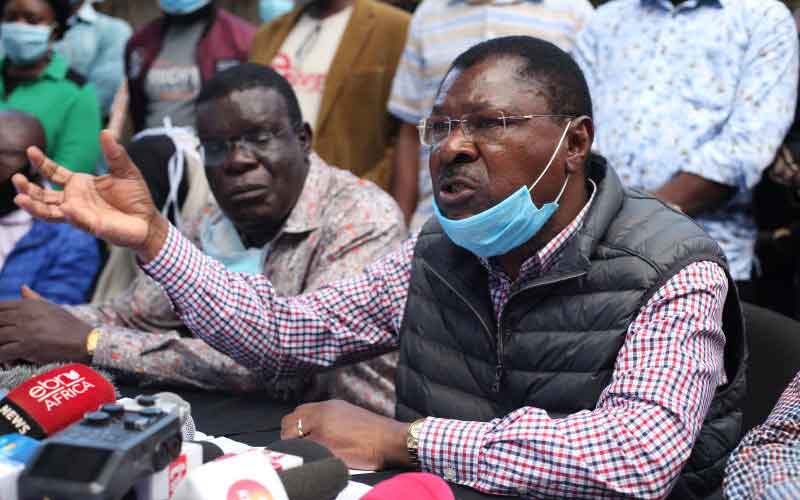 Bungoma Senator Moses Masika Wetang'ula's camp on Thursday secured an early win in the tussle for the control of Ford Kenya after the Office of the Registrar of Political Parties said the 'coup' in the party had 'gaps'. Two warring factions of the party on Tuesday filed documents at the registrar as the bona fide office holder. One group, led by Kanduyi MP Wafula Wamunyinyi and his Tongaren counterpart Eseli Simiyu, notified the Registrar of Political Parties Anne Nderitu that a special National Executive Council sitting had replaced Wetang'ula as the party leader. Moments later, another group backing besieged Wetang'ula, filed their documents to show he was still the party boss with Kiminini MP Chris Wamalwa as secretary general, replacing Tongaren MP Eseli Simiyu.
SEE ALSO: Wamunyinyi takes fight with Wetang'ula to court, cites mischief
Ms Nderitu now says Wetang'ula's ouster had gaps as the statutory form PP7 presented by Wamunyinyi's team was not properly signed by the authorized officials as per her office. The registrar reviewed Wamunyinyi's submission against relevant laws including the Political Parties Act (PPA), Ford Kenya Constitution and records of the party in their possession. "In this regard, you are kindly guided to address the issue highlighted above within the precincts of your party Constitution and in line with section 20 of PPA and apprise us on the same," Ms Nderitu told Eseli in a letter seen by
Standard Digital
. With the matter referred back to the party for internal resolution, the coup juggernaut in the lion's party is set more drama and possible casualties, as each faction has vowed disciplinary action for its rival. Wamunyinyi's team faulted Wetang'ula for failing to provide inspiring leadership, blamed him for disunity in the party and accused him of moral impropriety in last year's Dubai gold scandal saga.