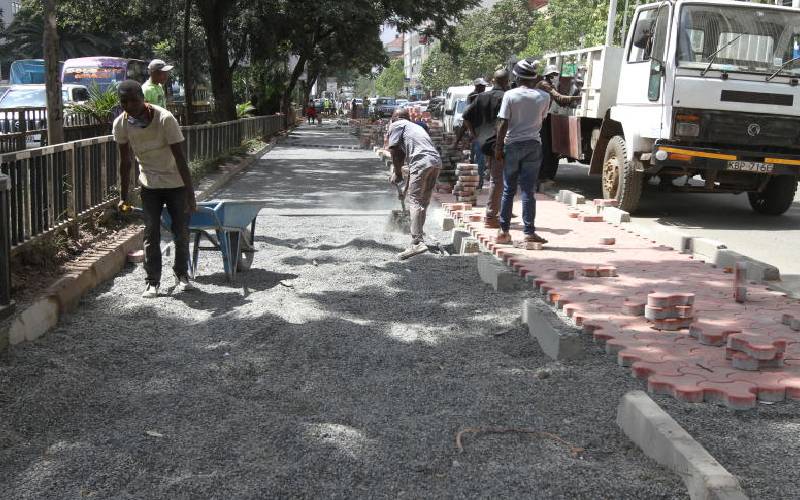 Nairobi
In the CBD, the work begins from Moi Avenue past Serena Hotel at the Integrity Centre junction.
Nairobi's streets are beginning to take on a new shine as the Nairobi Metropolitan Service works to deliver on what was promised within 100 days of takeover. Non-Motorised Transport (NMT) works are going on at Kenyatta Avenue, Wabera and Muindi Mbingu streets coordinated by Michael Ochieng, NMS Director of Transport, Roads and Public Works. The construction of pedestrian walkways and cycle lanes attracted a night visit by the president if a video clip doing the rounds on social media is anything to go by.
CCTV images
SEE ALSO: Bid to scrap PSVs drop-off zones
Social media was yesterday lit up as the video of what appeared to show CCTV images of persons resembling President Uhuru Kenyatta and ODM leader Raila Odinga stopped to look at the works along Kenyatta Avenue on Monday night. The Standard, however, could not independently verify the authenticity of the clip. The video shows a car stop by the works at about 8.25pm followed by several SUVs in a small motorcade as well as heavily armed police. The cars are, however, unmarked. In the CBD, the work begins from Moi Avenue past Serena Hotel at the Integrity Centre junction. "The Muindi Mbingu NMT moves right from City Hall to University Way and the roundabout at the University of Nairobi," said Ochieng.
SEE ALSO: City motorists to pay hourly parking fees in new plan
He said in the next 20 days, they should be able to provide residents with the appropriate NMT, part of which is a de-congestion strategy.
New administration
Nairobi Metropolitan Services (NMS) Director-General Mohammed Badi about two weeks ago met with Raila as he continued to organise his new administration. Badi took over office on March 18 after President Kenyatta put him in charge of the city. This followed the coming into effect of the Deed of Transfer of functions that the national government and Nairobi County signed on February 25, 2020, that saw governor Mike Sonko relinquish some of the key departments in the county.