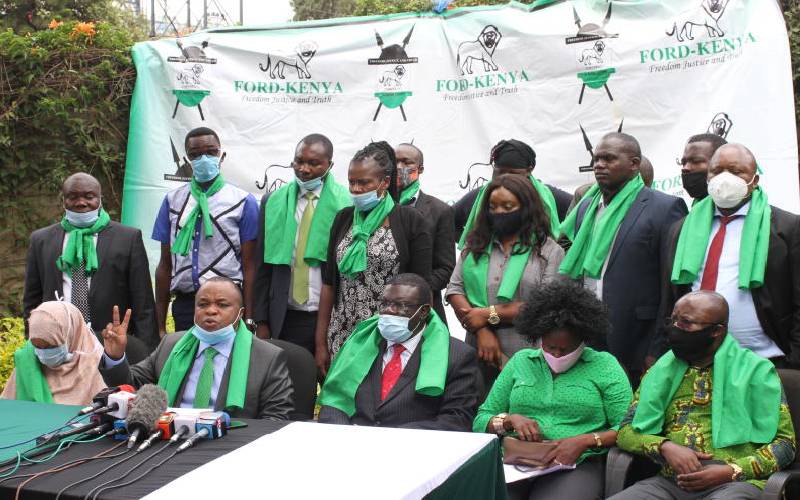 Two new community spokesmen, a grieving former spokesman, a dethroned party leader, a de-whipped chief whip and a boisterous schemer. This surmises the situation unfolding in Western, following a chain of events in the last few days, which has upset the region's political order and invoked a new wave of political soul searching. It is a multi-pronged fight; different leaders fighting for different causes, but all carrying with them the destiny of the vote-rich Luhya basket. Amani National Congress (ANC) leader Musalia Mudavadi is staking his all to reclaim his fast slipping community spokesman role.
No support at home
However, Oparanya and Atwoli responded immediately, dismissing the Mudavadi/Wetang'ula axis, saying some of them do not have support at home. Oparanya, who is also the chairman of the Council of Governors (CoG), maintained that he has always worked together with Luhya leaders and was amazed at the accusations levelled against him. "We have been supporting other candidates for presidency for years. Now is not the time for noise. Our opportunity is with the Building Bridges Initiative (BBI) where review of the law will allow the winner of a presidential contest not to take it all," Oparanya said.
Popular leader
"I used my own resources to carry out research done by the University of Nairobi to find out a popular leader among the Luhyas. I used the same resources to make Mudavadi our Luhya spokesperson prior to the 2017 General Election. He can't turn round and accuse me," he said. At that time, Atwoli said, Wetang'ula was furious about naming Mudavadi the Luhya spokesperson. "He called me names but I want to assure them that I have nothing to do with what is happening in Ford-K and ANC. My party is Kanu and I shouldn't be dragged into local parties belonging to fence-sitters who have no idea of what is happening in Kenya," he said. Atwoli said the two do not have the majority support among Luhyas and his wing has the numbers. He is now accusing those who assembled at Wetang'ula's home as brigades of Ruto, out to use the Luhya community for selfish reasons.