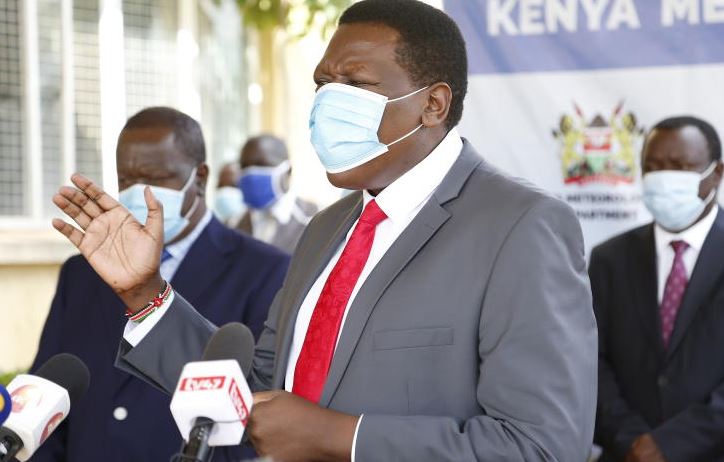 At least 237 Kenyans have been killed by the raging floods, and another 161,000 families displaced since the onset of the heavy rains. This means that an estimated 807,000 Kenyans are currently affected by the floods. According to Devolution CS Eugene Wamalwa
(above)
, the situation will worsen in the coming weeks as the rains are expected to spill into June, and more people will be affected.
SEE ALSO: Western leaders meet
"We expect the floods to worsen. We therefore appeal to Kenyans living in flood-prone and landslide prone-areas to move to safer grounds," the CS pleaded. CS Wamalwa said that the government has marked areas that are heavily affected among them Garissa, Tana River and Mandera. Areas of Mombasa, Lake Naivasha and Nakuru are equally risky areas, with the Lake Victoria region being the worst affected so far. "Over 44,000 people have been displaced in Budalangi alone," he said. The government says it will continue to provide aid to all the affected families which includes provision of relief food and water tracking to the camps.
SEE ALSO: Farmers feel the heat from heavy rains
The CS has warned officials who are mishandling food meant for the needy that they "will be met by the full force of the law". On his part, Environment CS Keriako Tobiko urged Kenyans to promote good climatic habits, seeing as we are witnessing the effects of climate change. "Nature is unforgiving, we have cleared off forests from escarpments, we have grabbed public utility plots- really aggravating the rainfall situation," he said. Projections by the Kenya Meteorological Department show that the rains will continue within most parts of the country until June. This week, rains are expected to continue in some parts of the country while others are likely to record reduced rainfall amounts.
The early afternoon showers that are expected on Friday may spread to several places. Nights are likely to be partly cloudy for much of the forecast period.Evening showers
are likely to occur over a few places on Tuesday and Thursday.

— Kenya Met Department (@MeteoKenya) May 11, 2020