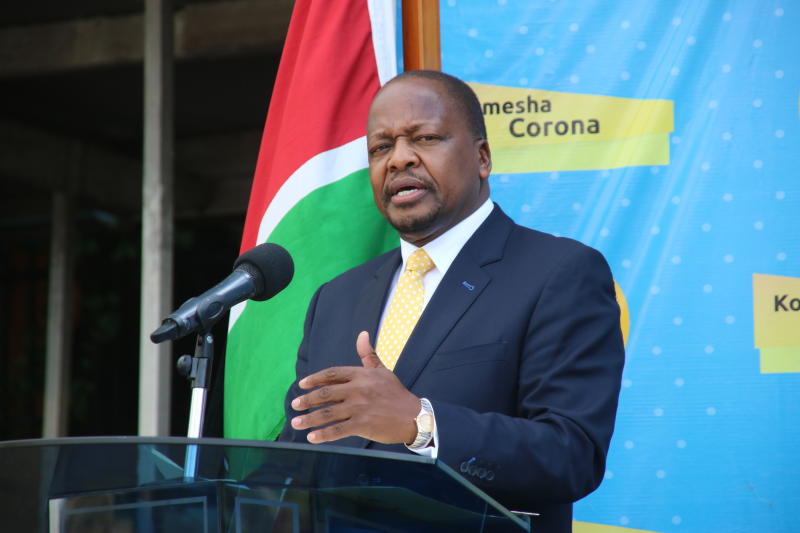 Health Cabinet Secretary Mutahi Kagwe (
pictured
) has defended the government restriction on movement to curtail spread of coronavirus and wants a case challenging the directive dismissed. In response to an application by activist Okiya Omtatah challenging the Covid-19 Restriction of Movement of Persons and Related Measures Rules, Kagwe argued that lifting the orders will lead to lawlessness and put the lives of millions of Kenyans at risk of contracting the virus. "If orders are issued to lift the restrictions then we will have no legal mechanism to ensure adherence to social and physical distancing, wearing of face masks and people from geographical regions identified to be hotspots will move freely making it impossible to contain spread of coronavirus," Kagwe said.
SEE ALSO: Community mental health services vital in addressing crises
According to the CS, there is nothing unconstitutional about the measures taken by the government since it is in public interest to save vulnerable Kenyans from contracting the disease. Omtatah challenged the government's decision to restrict movement of people in areas identified as hotspots due to high numbers of Covid-19 positive cases and the manner in which the government was forcing people to quarantine facilities. The activist accused the Health CS of exceeding his powers to make regulations under Section 36 of the Public Health Act by purporting to create criminal offenses and penalties for those breaking the curfew rules. According to Omtatah, Section 27 of the Public Health Act expressly provides that such measures be subjected to public participation before any drastic actions affecting the public are implemented. He argued that the state of affairs constituted a gross violation of the Constitution and wants the court to ease the restrictions.
SEE ALSO: Ensure the poor have access to basic needs
But Kagwe in his response stated that Omtatah's claims are not factual and that they are based on speculations which if the court will agree with will compromise the health of Kenyans. "In view of the emergency circumstances occasioned by the rapid spread of Covid-19, there was need to move fast to contain the situation which meant that public consultation was not feasible in the prevailing circumstances," said Kagwe. He added that the rules challenged were taken within the context of necessity to save the public without causing panic. The CS swore that based on advice from Public Health experts, uncontrolled interactions between persons including those who are asymptomatic would accelerate community transmission across the country and jeopardize efforts to contain the virus. In any case, the CS swore that the law gives him the power to declare any place to be an infected area and issue measures to protect the public.