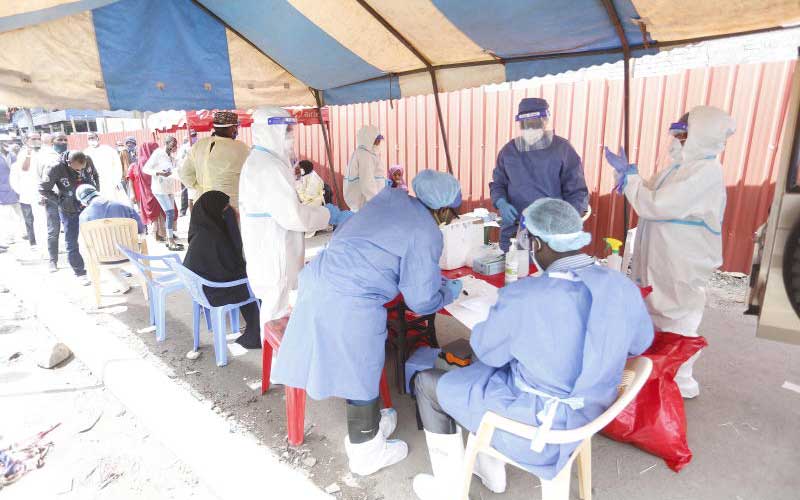 It has emerged that Kenyans are resisting or simply not turning up for Covid-19 testing in Kawangware and Eastleigh in Nairobi and Old Town in Mombasa despite data showing that these areas are local infection hotspots. This resistance greatly hinders government planning and interventions. The main reasons fronted for this behaviour are that the residents are terrified of the prospect of being found to be infected, which in turn would mean being quarantined under deplorable conditions and, until yesterday, having to pay up to Sh3,100 per day for 14 or more days. It is, therefore, safe to assume that Kenyans fear being tested because of these chilling consequences. Since the curfew began, the government has been criticised for unjustifiably quarantining people found in violation of curfew, some of whom had legitimate reasons for being outside during the period. Force and punitive laws seem to be the default of every government intervention, and this is beginning to hinder anti-Covid-19 interventions that require the collaboration of citizens. The State actions have been described by some as rash, illegal, unprocedural, unreasonable, disproportionate and extreme for many reasons.
SEE ALSO: Resumption of sporting activities looming? - Uhuru announces phased re-opening
For instance, the imposition of 14-day quarantine has been described as detention without trial, taking place devoid of legal backing. Constitutionally, any detention should be lawful, and if it extends past 24 hours, it should be sanctioned by the courts. For the avoidance of doubt, Section 27 of the Public Health Act provides for isolation for purposes of stopping an infectious disease such as Covid-19. It says: "When in the opinion of a medical officer, a person is exposed to an infectious disease, and is not accommodated in a place that will guard against the spread; the medical officer must issue a signed certificate which must be followed by an order signed by a magistrate; the cost of the isolation should be met by the local authority or district, essentially meaning the State; and that person is to remain in isolation until free from infection, again based on the opinion of a medical officer." Regarding costs during isolation, it is sad that the government would financially penalise people for falling sick or being suspected of having coronavirus, yet the law is explicit that such costs should be borne by the State. Thankfully, the government announced that forthwith, Kenyans will no longer have to foot the cost of quarantine. Clearly, the quarantine and detention of those found in violation of curfew orders have been extra-judicial because they bypasses three main conditionalities of a certificate from a medical officer, an order from the court and the payment of all costs by the State.
SEE ALSO: Local flights to resume on July 15
To add insult to injury, the government Covid-19 taskforce has recently directed the National Police Service to set up "detention centres" exclusively meant for those who violate curfew, thereby further entrenching the abuse of due process. In effect, the government has admitted that it was improper to detain without trial those in violation of curfew, social distancing and mask rules; exposing them to possible infection from interaction with those being quarantined due to legitimate suspicion of exposure to coronavirus. The threat of forced quarantine exposes Kenyans to increased extortion by the police who have carte blanche to quarantine you without the benefit of being heard before a competent court of law. Despite these glaring illegalities and policy blunders, Parliament and the Judiciary have done little to protect the rights of citizens. This may be because of the understandable resolve to give the government all the support it requires to fight Covid-19. However, they need to be reminded that all interventions must meet the constitutional muster and that the constitution and their oversight mandates have not been suspended. Kenya is a constitutional democracy and not a totalitarian regime ruled through the wishes or whims of those in power. The Executive, Legislature and Judiciary must be reminded that they all derive their powers from the sovereign people of Kenya whose will is codified in the constitution.
SEE ALSO: Covid 19: Uhuru announces phased re-opening of country
As the infections continue to rise exponentially, the government is required to take extraordinary measures to fight Covid-19, and in most of the cases, the measures taken could limit fundamental rights such as movement, privacy and assembly. However, every limitation as a matter of principle must be anchored in law. It is imperative that no person should be detained, stripped of his/her rights or deprived of his life except by the law.
Mr Kiprono is constitutional and human rights lawyer. [email protected]