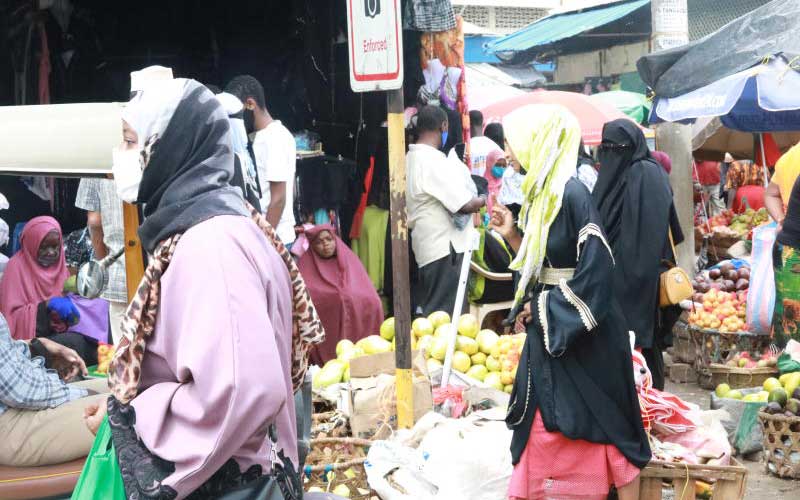 Coast
Residents have resisted attempts for mass testing for Covid-19 sparking angry reactions from Mombasa governor.
The Government yesterday made good its threat for tougher measures on Covid-19 hotspots and ordered a shutdown of Mombasa's Old Town after the area recorded 18 new infections.
The Standard
established that the 18 positive results from Old Town came from 74 samples taken on Saturday and Sunday. And last evening, tension was building at the crowded shanty town with 28,000 residents even as the police moved in to block entries and exits One of Kenya's oldest town, established more than 1,000 years ago, has been turbulent since the first case of Covid-19 was reported on April 18. This is when an Islamic scholar and herbalist Mohamed bin Hassan, alias Mwinyi Karama, contracted the virus and died, sparking a spiral of infection that continues to rise.
SEE ALSO: WHO acknowledges 'evidence emerging' of airborne spread of COVID-19
Densely populated
The Old Town is a densely populated and impoverished district with many accesses and exits. Its militant youth who, generally oppose officialdom, have vowed to resist any attempt to enforce mass testing for Covid-19. Clips have emerged on social media of youths threatening the police and medics. The youth are also accusing the State of inventing statistics to justify shutdown of mosques and public gatherings. Most residents are Muslims and during Ramadhan, emotions often run high. A national government official, who asked not to be named, said enforcement of the shutdown will be feasible if adequate forces are deployed around Fort Jesus, across Digo Road, General Post Office, Baroda, Allidina Visram School and Makadara Grounds. The southern side Old Town borders Makupa Creek, which leads to the sea.
SEE ALSO: Kenya's Wanyama could be in action once Major Soccer League resumes
"If we do not take these measures seriously, we shall soon be carrying 20 corpses from this area every day," warned a local elder who told
The Standard
that "this is an extraordinary measure by the national government which the people of Old Town have brought on themselves by refusing to abide by Government regulations." Another Government official who hails from the area said the lockdown and testing should be enforced "in order to rescue our people from their own stupidity because science cannot be contracted by the anger of a few youth." There are reports that since the first threat to impose a lockdown on the area was made by County Commissioner Gilbert Kitiyo at the weekend, some residents have migrated. Kitiyo called on residents of Old Town not to view the shutdown as punishment, but a way of fighting coronavirus. "They are being assisted to bring down infections. The police will be deployed to ensure the lockdown is effected," said Kitiyo.
SEE ALSO: UK Covid-19 death toll rises 44,391 after 155 new deaths
The ministry's report yesterday showed that two residents have died from the virus in their homes in the past 48 hours, sparking fear they could have infected many people. Old Town and the port, which recorded 29 infections and two deaths between March 17 and April 26, represent more than half of Mombasa's infections. The herbalist died after testing positive. His was the first reported case. Within days, his wife, maid and three daughters tested positive.
Chain of infections
Later, a resident who had visited a barbershop together with the herbalist's neighbour tested positive and infected his wife and children. Epidemiologists are convinced the herbalist was not the first to be infected because he was around 90 years old and never left Old Town. They believe he contracted the virus from a male patient who was never identified. "Up to now, we have not known where the herbalist picked the virus from," Aisha Abubakar, Mombasa County government chief officer of health, said on Monday. It is not known whether this patient is still alive and no one knows where he came from. The first reported infection at the port was Ursula Buluma, a 59-year-old employee, who was diagnosed on March 17 and died on April 2. James Onyango Oyugi, whose controversial nocturnal burial in Siaya sparked outrage mid last month, worked in the port's Conventional Cargo Department which recorded five infections after his death. The government said Oyugo died from Covid-19. Meanwhile, a truck driver also tested positive for the virus in Mariakani section of Kwale.