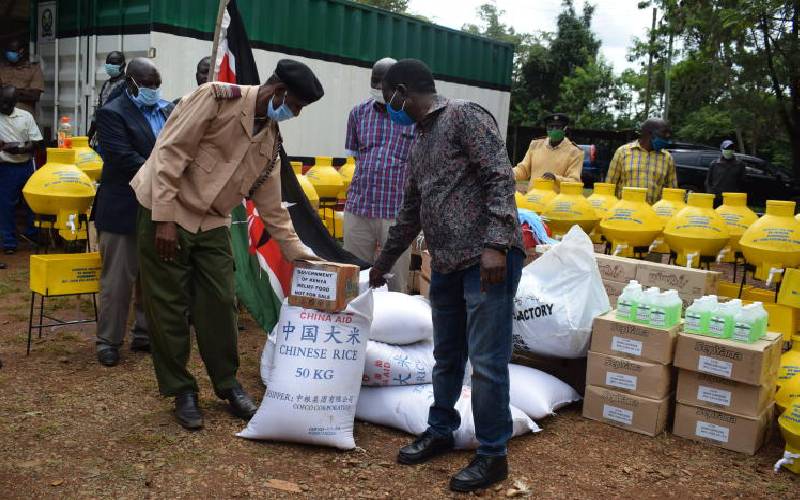 More than 2000 vulnerable families in Kasipul Constituency have received relief aid worth Sh5 million to cushion them during the tough economic times occasioned by the Coronavirus pandemic. The relief aid comprised 550 bags of rice (50kg each), boxes of sanitisers, bar soap and modern small tanks for washing hands. The tanks will be distributed in all major markets in the constituency. Speaking in Kosele on Tuesday when he handed over the items to Rachuonyo South Deputy County Commissioner Mohamud Hassan, Kasipul MP Ong'ondo Were said the items had been acquired by the area NGCDF, his personal donation of Sh500,000 and donations from the government department of Special Programmes, Kenya Pipeline and the National Youth Service. The legislator said the items will be distributed to needy and vulnerable residents including the elderly persons, persons living with disabilities among other needy people in all locations in the constituency.
SEE ALSO: Sierra Leone doctors' strike leaves COVID-19 patients stranded
"I mobilised these items from various partners to enable our people to get what to eat because Covid-19 has made life unbearable for many people," he said. The MP appealed to other well wishers to intervene with humanitarian aid to help the residents overcome economic challenges caused by the virus. The legislator urged leaders and locals to adhere to government regulations to keep Coronavirus out of the constituency. "Let everybody comply with the government's regulations to enable us to fight this pandemic effectively," Were said.
Crop production
SEE ALSO: Pandemic costs Africa travel, tourism almost Sh5.5 trillion
The MP urged his constituents to invest in crop production to enable them get food during and after Coronavirus pandemic. He said the ongoing rain in the area can enable many people get high yields if they utilise it effectively. "I want our people to be in the frontline in crop production because we have fertile soil for crop production and rainfall is also available. We don't know when Coronavirus will and it is only through activities such as farming that will help our people in case the virus takes long to end," said Were. Hassan began distribution of the relief aid in various locations immediately after the handover exercise. He said identification of the beneficiaries was done by chiefs, their assistants and in collaboration with residents to ensure the items go to the intended people.