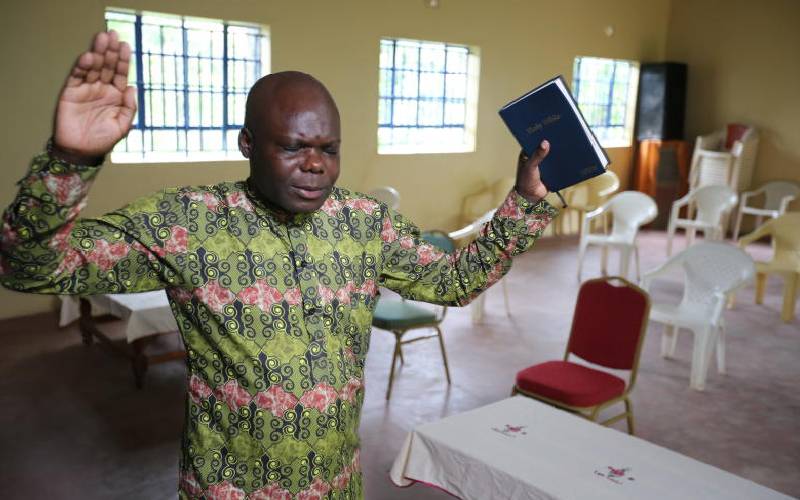 The hunger for God in Kenya is amazing. Just look at the number of calls made to open religious worship places amid coronavirus containment efforts. On one hand, there is hunger to hear the Word of God. On the other, the lockdown has financially crippled a lot of constructive religious activities that depend on tithes. Before reflecting on this further, we might ask; Is a worship place immune to disease spread? Can people practise social distancing in places of worship, and observe other measures to contain the coronavirus spread? But the more fundamental question is: What is at stake if religious worship places remain closed or open? We do not have statistics to show how many worshipers are 'dying' to go back to their worship rituals. But surely, there are thousands who would love to go through those worship doors to kneel, prostrate or jump in prayer. Others want to get back and take their rightful roles in animating all sorts of worship activities.
SEE ALSO: The forgotten victims of Covid-19
In places with thousands of worshipers in attendance on the day of prayer, several leaders are elected to coordinate various ministries. No doubt many of these leaders would want to get back and run their shows. It is difficult to tell when the motive to serve as a leader is pure, when the function is seen as a social platform to influence people or make self-gain in one way or the other. We also have worshipers so tied up to the rule, they believe failure to show up on the day of prayer is unforgivable. Less informed religious leaders affirm this with threats that God will punish those who do not show up to pray on the respective day. Consequently, some would think it is an act of cowardice not to show up at a place of worship just because the government has ruled out public gatherings. Religious fundamentalists – not to be mistaken with religious terrorists – are spiritually traumatised because they cannot pray in the House of God. Some religious leaders have made passionate appeals that places of worship be opened the "same way that restaurants have been opened". This argument is obviously flawed if it is the only reason they want worship places open. The leaders assure that they will be in a position to enforce government regulations. It will be unfortunate if worship places opened and it turned out that they violate rules meant to secure the very lives they are meant to save. Besides, do leaders making the call want the government to open worship places because the "sheep is going astray?" Places of worship provide a platform for people to prayerfully encounter God. This experience is personal and mysterious, yet it is religiously collective. This means, it is experienced in a community of worshipers. For this, reopening places of worship makes sense.
SEE ALSO: Kenya stares at return to lockdown
Unfortunately, motives matter. Some religious leaders are commercial workers using religion as the commodity for sale. For them, the "stock market" is performing badly this time. But make no mistake; many religious institutions that genuinely depend on tithes are on their knees. By and large, as the government has come to realise, social distancing and other directives meant to limit the spread of coronavirus are hardly observed. How then would the religious leaders ensure the rules are followed? Worshipers are so diverse and so dissimilar geographically that it will require some miraculous intervention to get all of them to respect government directives. I do not know what criteria will be used. Mainstream religious groups might be easier to manage because they have the structures to order for strict observance of government laws.
Religious leaders
It is encouraging looking at what is happening around the world. Lockdowns are cautiously being lifted. Kenya will not be an exception. In the next few weeks, we pray, the lockdown will be lifted and everyone takes care of their flock the way they know better.
SEE ALSO: No Money, No Testing
Clearly, religious leaders have a point to open up places of worship. Bills have to be paid. Staff jobs have to be secured. Sadly, no easy choices are available. Religious leaders have to be at the forefront inviting some of their restless worshipers who want places of prayer open to find God in their houses. It is difficult to contemplate realistic compliance of government directives in most of these places of worship. The government must be supported in its efforts to fight the spread of coronavirus. The more we comply the faster we get back to normalcy.
Dr Mokua lectures on media and communications studies