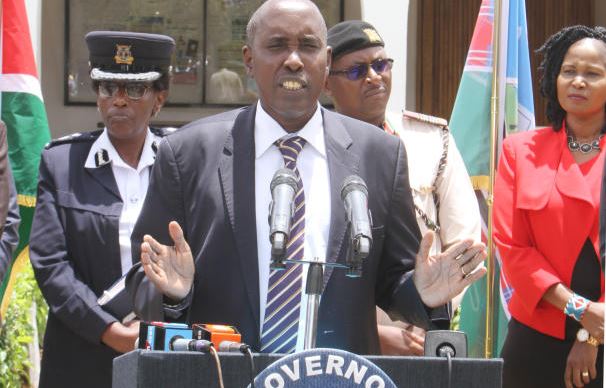 Kajiado Governor Joseph ole Lenku (above) has ordered the re-opening of livestock markets after an assurance that all traders will comply with guidelines to stop spread of Covid-19.
"We are reopening the markets on condition that the measures that have been put in place by the Department of Public Health will be adhered to," said Mr Lenku.
Speaking at the Emali market in Kenyawa Poka Ward, the governor said the livestock market will resume every Friday and called on the traders not to defy health guidelines on social distancing, mass gatherings, hand-washing and wearing of masks.
He was accompanied by the Kajiado County Security team led by County Commissioner Joshua Nkanatha and County Police Commander Beatrice Gachago.
Cattle sale yards in Ilbissil, Emali, Kimana, Shompole and Kiserian were closed last month to stem spread of Covid-19 pandemic.
Lenku said Kajiado was a big producer of meat and reopening the markets was meant to stabilise prices of cattle.
He said all levies related to food, including livestock cess, had been suspended until June 30, 2020.
The governor reiterated that social distancing remained a big challenge. He said inspectorate officers and other security officers would not relent in enforcing the directive.
Mr Nkanatha said security would be provided to all traders and warned that non-compliance with health guidelines would lead to closure of the markets again.
However, some leaders have condemned the re-opening of the markets, saying the county has not fully complied with the government's directives on prevention of the virus.
Led by former Senator Peter Mositet, the leaders said the county government has not provided enough sanitisers and face masks to local residents and traders. The first case of coronavirus was reported in Kenya last month.