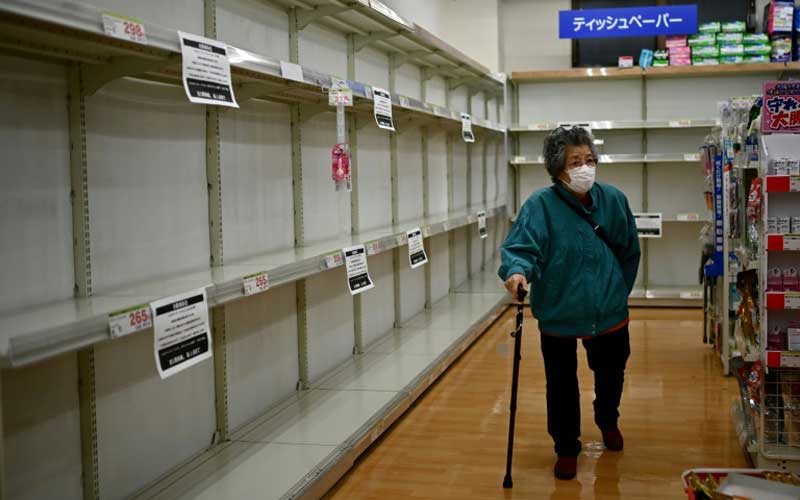 Shelves are being stripped bare of toilet rolls, hand sanitiser and surgical masks everywhere from Japan to France to the United States as panic buying criss-crosses the globe with the coronavirus, defying repeated calls for calm and disrupting supply chains. Obsessively documented on social media, scrambles to the shops and empty shelves are adding panic and confusion to the fight against an epidemic that has killed thousands, placed millions under quarantine and battered global markets. Australia's biggest supermarket this week began rationing sales of toilet paper after police had to be called to a shop in Sydney when a knife was drawn in a scuffle over the scarce commodity. On Saturday Japan's prime minister took to Twitter to calm fears of a national shortage, while social media photos from the US show toilet paper shelves lying bare.
'The odd one out'
Single-use surgical masks that typically retail for just a few US cents are also hot property, exacerbated by restrictions on exports from China, the leading producer, as the government keeps more back for domestic usage. Last month ten thousand people queued outside a Hong Kong shop that had secured a shipment, and days later masks were voted the most desireable gifts to receive for Valentine's Day.
'Trusted faces'
As more countries report new cases, Yap and Chen said it was important for authorities to "re-establish control" over information and rumours that spark hoarding and panic-buying. "In times of uncertainty, it is good to set rules because rules provide a sense of order and control." Governments also need to be clear in explaining any new rules and why they are important in the fight against the virus.