Rift Valley
Baringo senator asserts that he has no interest in the Nairobi Inland Cargo Terminal and Mitchell Cotts Limited.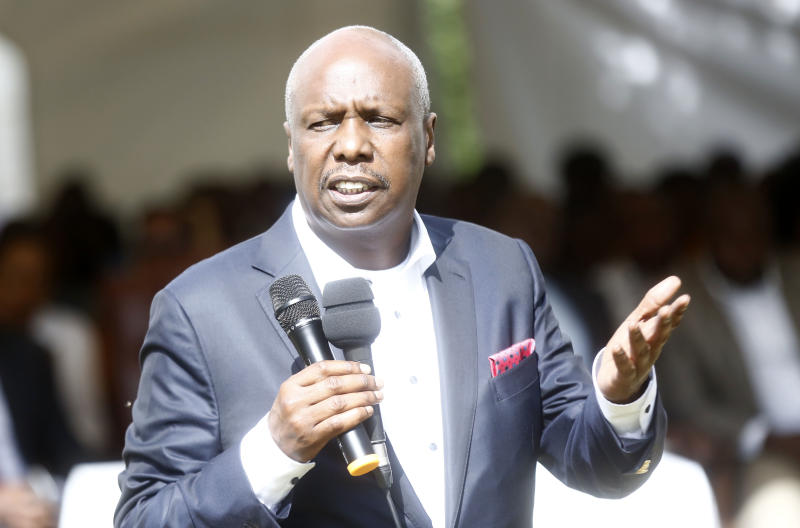 Baringo Senator Gideon Moi (pictured) has formally sued
Nation
newspaper for defamation. In a case filed before the civil court in Nairobi, Moi says an article run by the paper ruined his good reputation by alleging that he owned a company said to be at the heart of a controversial Kenya Ports Authority (KPA) tender. The lawmaker, through his lawyers TripleOK Law LLP, says his reputation as a leader and a businessman was brought into disrepute by the article, which also ran in the media house's online platforms.
SEE ALSO: Swelling lake waters put brake on economic activities plan
"The plaintiff avers that the words are false and included twisted facts tinged with malice and presented as the absolute truth designed and clearly intended to disparage, belittle and injure the plaintiff's character and reputation as a senator, state officer and as a businessman with interests both within and outside Kenya in the eyes of the public," court papers filed this past week reads in part. Moi said there is no company known as Mitchell Cotts Limited (MCL) as had been alleged by the newspaper. The senator also denied that he owns or holds shares in the company. Although
Nation
had claimed that its investigations and documents obtained from Registrar of Companies had showed that there was a firm known as MCL, papers tabled in court say there is no such company at the registry. According to the senator, instead there exists Mitchell Cotts Kenya Limited (MCKL) which was incorporated on April 29, 1964, and registered by the Registrar of Companies as C5887. The papers filed show that MCKL is owned by the Ndegwa family, and the senator and his family do not hold any shares or directorship in the freight firm.
SEE ALSO: Kenya-Tanzania border war to hit revenue, trade at port
Moi also asserted that he has no interest in the Nairobi Inland Cargo Terminal. A CR12 extracted on January 10, 2020, and annexed to the suit papers reveals that MCKL directors are Duncan Nderitu Ndegwa, Anthony Peter Wainaina, Daniel Kipsang Tanui, Patrick Kithinji Mugambi, Andrew Ndegwa and James Philip Maina Ndegwa Makimwa Consultants Ltd and First Chartered Securities Ltd are also listed as shareholders. "The plaintiff is not a shareholder or a director of Mitchell Cotts Kenya Limited. The plaintiff's family has no interest in Mitchell Cotts Kenya Limited, the non-existent Mitchell Cotts Limited or Nairobi Inland Cargo Terminal," the documents seen by
Sunday Standard
read. According to the court papers, the senator never participated nor influenced the tendering process.
SEE ALSO: Gideon holds talks with Rift leaders
"The plaintiff is an honest state officer who serves the Republic of Kenya as the senator, Baringo County, and whose mandate is spelt out in the Constitution," the case reads, adding that he has never abused his office nor has he been subject of criminal investigations by Directorate of Criminal Investigations (DCI). Moi reads malice in
Nation's
article for linking him to the alleged decision to transfer cargo clearance from Mombasa Port to Nairobi ICD. The
Nation
knew he was not part of the Executive, hence could not have played any role in the government policy on cargo clearance, he argues. He asays the newspaper also knew he does not sit in KPA's board or in the firms awarded to construct storage facilities at the Nairobi ICD. Court papers add that the local paper published falsified information, did not verify the same and failed to reach out to him for a right of reply. Moi says that juxtaposing his photograph on a file picture of Nairobi ICD terminal was meant to create a nexus between him, KPA and the ICD. The senator says he has enjoyed high regards and good reputation in his private affairs and as a leader, and has never been involved in any criminal activity.
SEE ALSO: Eyes on Gideon following revamped Kanu-Jubilee deal
"I can confirm that the said publication was both reckless and malicious in the extreme intended to inflict maximum reputation damage on the plaintiff. The defendants' false, defamatory and malicious publication has impinged, infracted, heavily dented and brought into great disrepute the plaintiff's character and reputation," he says in his supporting affidavit.