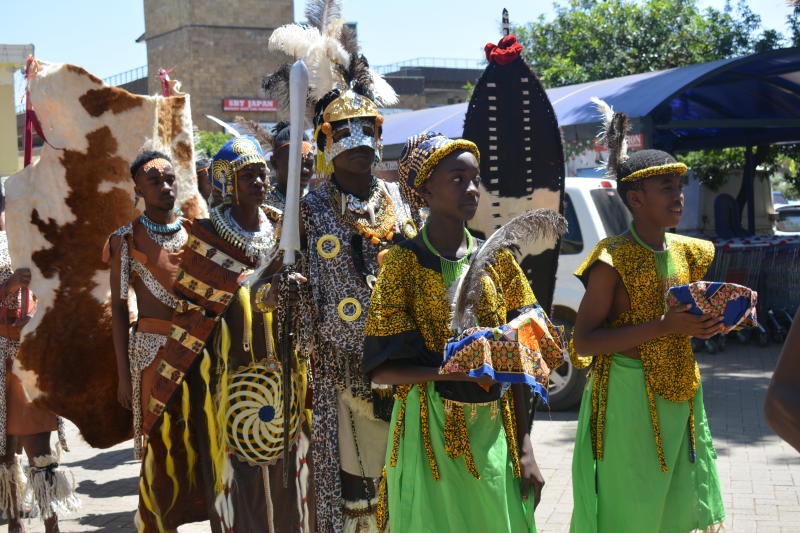 Arts & Culture
The biblical story about Christmas especially the birth of Jesus may not have links to Africa.
The biblical story about Christmas especially the birth of Jesus may not have links to Africa. Yet ancient historical documents detail that one of the traditional Christian legends of the Magi, otherwise known as the three wise men, was an African king. It is against this backdrop that an African adaptation of the wise man travelling to Bethlehem and gifting Jesus is being showcased at Junction Mall in Nairobi. The curated promotion 'An African King's Journey to Christmas' centres on the African king, documented in history as Balthazar, who gifted Baby Jesus with myrrh. The chronicles identify him as king of Egypt with other versions indicating Ethiopia. "
Bayete Inkoshi! Bayete Inkoshi!
(Be greeted, king! Be greeted, king!)," a song in South Africa's Zulu dialect presented to the king and the queen at a make-up courtyard in an imagined African Kingdom of South Africa.
SEE ALSO: Actress Regina Daniels,19, expecting child with 59-year-old hubby Ned Nwoko
Dancers holding short spears and hide-shield, historically identified with warriors of Shaka Zulu monarch, perform mock fights in tune with the rhythm.
"Bayete Inkoshi!"
shouts one male dancer as female dancers circle around him. The king looks up the sky in a symbolic sightseeing of the star that guided the wise men to Jesus' birth place. He picks his spear and shield before joining the dance. The Magi, accompanied by the dancers and some of his cabinet, go to the kingdom's market where he looks for a gift before setting off for the journey to "Bethlehem" to pay homage to Jesus. At the symbolic Musical Masai Market at the Junction Mall's third floor, the king settles on myrr. Organisers of the annual event said they are seeking to recreate history by situating Christmas in Africa. The event has been taking place during the festive season since 2012.
SEE ALSO: Global ethnic brutality worrisome, should be stemmed at all costs
This year, the theme was based on King Shaka Zulu of South Africa and the performance echoed the culture. Other kings depicted in the past include King Ramses of Egypt and Mansa Musa of Mali among others. "Each year, we select a king from Africa who prepares for a journey to Bethlehem to pay homage to Baby Jesus," said Ms Alakie Mboya behind the African Magi's Journey to Christmas Promotion and founder of Shangari Communications. Mwihoti M'Mbijiwe, the head of marketing at Knight Frank Kenya, who was part of the organisers said the promotion will run until January 6, 2020 and shoppers stand a chance of winning prizes including a car, selected items and cash prizes. "I like performing arts and I feel we need to support artists. That is why we decided to use them to market the mall and as part of celebrating our cultural heritage," said Ms M'Mbijiwe.